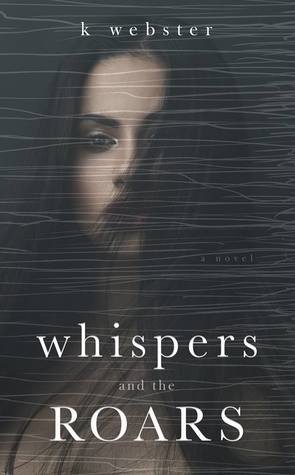 Whispers and the Roars
Fiction, Dark Romance
December 6th 2016
When my eyes are closed, the monster can't ever see me.
When I sing a song in my head, the monster can't ever hear me.
When I pretend my bedroom is a playground where I play hide and seek, the monster can't ever find me.
The darkness should frighten me.
I should worry I'll find more monsters…monsters scarier than him.
But I'm not afraid.
It's safe here.
When I'm inside of my head…
He. Can't. Ever. Touch. Me.
Warning:
Whispers and the Roars is a dark romance. Strong sexual themes and violence, which could trigger emotional distress are found in this story. The abuse written in this story is graphic and not glossed over which could be upsetting to some. Proceed with caution. This story is NOT for everyone.
ARIANNA's Review
'Whispers and the Roars' was such a fantastic, unique read. It was dark-ish, addictive, fantastically written and oh, my…so intriguing. If you are like me and love books that portray mental illnesses, then you don't want to miss this one. K. Webster delivered an authentic story, in every possible way, that sucked me in from the very beginning. This story of unconditional love and dedication will leave you breathless, will make you think and feel, will make you believe in love, REAL LOVE.
"The darkness should frighten me. I should worry I'll find more monsters… monsters scarier than him. But I'm not afraid. It's safe here. When I'm inside of my head… He. Can't. Ever. Touch. Me."
While the premise was nothing new to me, since in the past I've read several books with similar premises, I enjoyed this one and I truly think the author did a wonderful job not only giving us a deeper understanding of human psyche, clearly doing a lot of research, but also in some way teaching us something meaningful – what means to be loyal and compassionate, to be a friend, to be a lover, to love unconditionally and so much more. Needless to say, K. Webster's newest release was educational as it was eye-opening.
"I love her. Plain and simple. You can't snuff out the blazing flames of love. Soulmates don't simply drift apart. Twelve years has done nothing to change the way I feel about her. The time with us separated is over. No more hiding. No more avoidance. No more denying our complicated relationship. I'm going to make this right again."
One of the theme here, like I mentioned above is unconditionally love. Love is everything in this story. Love can make everything better and love can heal you. The two main characters, Kady and Yeo were fantastically portrayed, endearing and had so much depth, their story being equally heartbreaking and heartwarming. I'm not gonna say much about Kady, just that she's a complex, well layered character I loved reading about, even if her story saddened me very much, breaking my heart over and over again. As for Yeo, he was such an amazing hero. Trust me when I say, he was a HERO in every way that is, in every way that matters. He was simply wonderful! Sweet, protective, loyal, considerate, Yeo was everything I love in a hero, so yeah, he melted me from the inside out.
What to expect reading this one…besides the epic love between the two main characters? Expect a twisted story line, interesting SUPPORTING CHARACTERS, an unconventional, yet beautiful love story that will warm your heart, a story that will steal your heart and capture your mind.
"He helps her fight on the outside. And we wage war on the inside. Our love is difficult but it's ours and I wouldn't change a thing about it."
The pace of the story was fantastic, perfect for such an enthralling read and I have to say I love the multiple POV, . Every single one of this POVs were well done, engaging in their own way and left me wanting more as the story unfolded.
Overall, 'Whispers and the Roars' was an intriguing, complex tale, with an interesting premise and great themes that you definitely should try if you are looking for something…unconventional, consuming and of without a doubt, though-provoking. Open you heart and mind before starting this one and most of all, go in blind.
"No whispers. No roars. Nothing."
---
About K. Webster
K Webster is the author of dozens of romance books in many different genres including contemporary romance, historical romance, paranormal romance, and erotic romance. When not spending time with her husband of twelve years and two adorable children, she's active on social media connecting with her readers.
Her other passions besides writing include reading and graphic design. K can always be found in front of her computer chasing her next idea and taking action. She looks forward to the day when she will see one of her titles on the big screen.
You can easily find K Webster on Facebook, Twitter, Instagram, Pinterest, and Goodreads!
---
Stalk Her:
---
Enter Giveaway Below!