Walk of Shame
Love Unexpectedly #4
Fiction, Contemporary Romance
April 18th 2017

Sparks fly between a misunderstood New York socialite and a cynical divorce lawyer in this lively standalone rom-com from the USA Today bestselling author of Blurred Lines and Love Story.
Pampered heiress Georgianna Watkins has a party-girl image to maintain, but all the shopping and clubbing is starting to feel a little bit hollow—and a whole lot lonely. Though Georgie would never admit it, the highlights of her week are the mornings when she comes home at the same time as her uptight, workaholic neighbor is leaving to hit the gym and put in a long day at the office. Teasing him is the most fun Georgie's had in years—and the fuel for all her naughtiest daydreams.
Celebrity divorce attorney Andrew Mulroney doesn't have much time for women, especially spoiled tabloid princesses who spend more time on Page Six than at an actual job. Although Georgie's drop-dead gorgeous, she's also everything Andrew resents: the type of girl who inherited her penthouse instead of earning it. But after Andrew caps one of their predawn sparring sessions with a surprise kiss—a kiss that's caught on camera—all of Manhattan is gossiping about whether they're a real couple. And nobody's more surprised than Andrew to find that the answer just might be yes.

➦Ok, I totally gave in and read this. One simply needs to know what all the hype is about. So today, while, washing the beast, I was happily indulging in an audiobook of this story.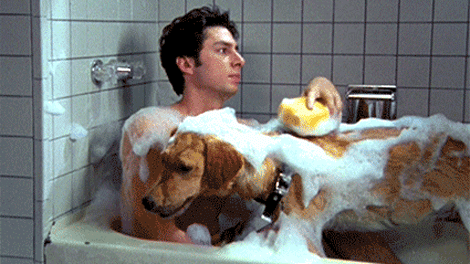 ➦And by "washing the beast" (there's really no innuendo here, people) I mean I was giving my 70 lb dog a bath. And even though that gif up top sure does look cozy it's nowhere near as relaxing. So anywhoooo, followed by a couple of hours of grooming and BAM – I've finished this book! So I hereby certify it to be perfectly suitable for listening while trying to wash/groom/tame any sort of beast.

➦I suppose, in a nutshell, that's what the heroine of this enemies to lovers romance is trying to do – tame the beast! The hero is the best divorce attorney in town, an uptight and somewhat unfriendly suit, who lives in the same building. Every 5 am these two seem to be having run-ins in the lobby and they might or might not be deliberate.
➦So long story short, it's a pretty lighthearted romance with whole lot of witty banter and as far as romcoms go it's a very solid read. One thing worth mentioning, perhaps, is that the writing is very… um, chick lit? It's not a bad thing, by any means, but it's sort of all hearts and rainbows and you have to be in the mood for that too. Also, I, personally, find expressions like "evidence of his arousal" in a reference to a cock a bit cheesy. But that might be just me.
➦If you liked The Hating Game then you'll probably enjoy this book. So, if a humorous enemies to lovers read is what you're looking for, then go for it!