Toward the Sound of Chaos
Fiction, Contemporary Romance
CreateSpace
May 18th 2016

Jake Tucker is broken. At twenty-two, he went in to the Marine Corps a naïve, troubled youth. Nine years and four tours later, Jake finds himself back on US soil, though his mind remains firmly planted in the sands of Afghanistan with the men he left behind.
Wounded, chewed up and spat out by war, Jake has only his dog, Nuke, PTSD, and survivor's guilt to keep him company. He's lived every day for nine years wondering when it will be his last, but there's little comfort in the fact that he's still standing when his platoon isn't.
Ellie Mason doesn't have time for broken. She's too busy trying to put food on the table. And keeping up with the demands of her autistic son, Spencer, is sometimes like fighting behind enemy lines. As if navigating the minefields of single parenthood isn't enough, Ellie finds herself drawn to the quiet Marine who's just as lonely as she is. But she's loved damaged men before, and it left her wounded.
Set against the picturesque backdrop of Fairhope, Alabama, Ellie and Jake find themselves running toward the sound of chaos.
Love is war.
Only the strong survive, and surrender is inevitable.
ARIANNA's review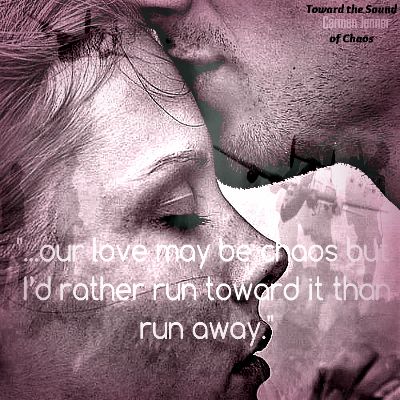 Carmen Jenner delivered a poignant tale about love, family, healing and learning to move on. This one was very different from other books I've read by this author. It was equally heartbreaking and heartwarming, a truly emotional rollercoaster that really touched my heart at times. 'Toward the Sound of Chaos' is the story of Ellie and Jake, two individuals who find each other and find love when they least expected it.
"Every day may not be good, but there is something good in every day."
Life wasn't easy for Ellie Mason. At 22 her life changed irrevocably when she found out she was pregnant. Eight years later, Ellie is a single mother for her special boy Spencer who was diagnosed with Autism and Sensory Processing Disorder when he was just a little baby. Ellie loves her son with all her heart and she would to anything for him, but there are days when she really struggles with her son's demands or with her loneliness.
"How do you undo everything you've done? How do you forget the screams, and the faces of your brothers as the light drains from their eyes?"
Fairhope, Alabama was Jake Tucker's home town before he went away at war. Now, at 31 he's a broken man. He doesn't have any family alive, any friends and his army brothers are all dead. Every time he closes his eyes, Jake can still see all the horrors, atrocities and crimes he witnessed during his service. He feels empty, lonely and all he wants is to forget about everything that means war and forget as well that he suffers from PTSD.
Ellie and Jake meet when he rescues her from a car accident. They keep in bumping into each other, eventually starting a tentative friendship that slowly becomes something more for both of them. Jake wants Ellie and he wants Spencer too. He wants to provide for them, to protect them, to be there for them, but he believes he has nothing left to give, that he's not good enough for the young single mother and her little boy. When she's looking at Jake, Ellie sees the real Jake. He sees a good, caring man and all she wants is to help him somehow.
"There's good in him, light, and strength—he just don't know it right now."
'Towards the Sound of Chaos' was well written and overall well-paced. Full of heavy emotional scenes, this book really touched me at times. The story felt real and the characters had depth from the very beginning. Seeing Ellie how hard she struggles with everything was really heartbreaking at times. She's not broken like Jake, but she's a little damaged and I think the author did a great job with her character. I liked our heroine very much. She's a phenomenal mother. You can tell from the beginning how much she loves her son. She would do anything for him and she would make any sacrifices for him to be safe and happy. She was strong and caring and simply amazing with her son and also with Jake.
My heart broke so many times for Jake. He was so well portrayed and I felt everything that he felt as the story progressed. I felt his despair, his fear and I also felt his love for Ellie and her little boy. At times I wanted to give him a hug so badly, but at times his push and pull behavior really frustrated me. I understood he was hurting, but I wanted for him to be more accepting. His character development was well done and in the end he had all my admiration not only because he decided he wants to be a better man for himself, but also because he decided Ellie is a woman worth fighting for.
"I may have screwed up a lot of things in my life, but loving you, and starting a war over this isn't wrong. You're mine Ellie Mason, and I'm yours."
I have to mention the sweet relationship between Jake and Spencer, Ellie's son. Watching them interact with each other was really touching at times.
I appreciate the research the author did for this novel in writing Spencer's character and also Jake's character. She did a fantastic job!
Overall, a touching, well written story!