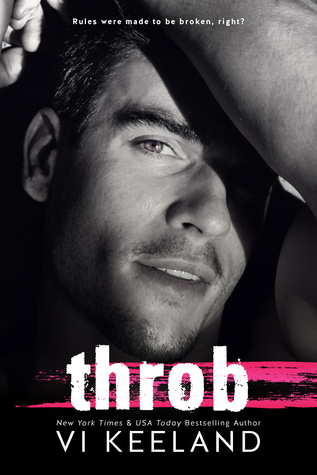 Throb
Life on Stage Series #1
January 25, 2015
269

The rules:
No dating.
No sex outside of the game.
No disclosing the terms of the contract.
Rules were made to be broken, right?
Eight weeks ago I signed a contract. One that seemed like a good idea at the time. A handsome bachelor, luxury accommodations, and a chance to win a prize my family desperately needed. There were some rules though. Lots of them actually. Follow the script, no dating, sex, or disclosing the terms of the deal. After my self-imposed moratorium on men the last year, it wouldn't be hard to live up to my end of the bargain... so I thought. Until I realized the deal I'd made was with the devil... and I was in love with his dirty-talking brother.
➦You know it's not great for ya when you can't be bothered to stick around for an epilogue. Yep, I totally didn't care and moved right on to book 2 in the series.
➦Imagine you are competing against other women on a reality show for one man. And you like him, you really really like him! Then bam! You meet someone else and you like him more! So what the fuck do you do now? That's the situation the heroine in this book finds herself in.

➦And although the book has an interesting premise and a lot of people did love it, I felt like it was lacking a good ending (for me!) I didn't really understand the decisions the heroine made and it made it hard for me to connect with her and enjoy the book. I thought there was going to be more drama at the end, it kind of lacked a punch… I might be talking nonsense lol I'm just trying to make sense of why exactly I didn't care for this…
➦There's obviously a love triangle here but there is no cheating. The "other" guy is totally sweet and sexy so it's hard to hate him lol And he's a main character in the second book of this series… which, by the way, also has a love triangle. I sense a pattern.