The Silent Waters
Elements Series #3
Fiction, Contemporary Romance
BCherry Books Publishing
September 22nd 2016

Moments.
Our lives are a collection of moments. Some utterly painful and full of yesterday's hurts. Some beautifully hopeful and full of tomorrow's promises.
I've had many moments in my lifetime, moments that changed me, challenged me. Moments that scared me and engulfed me. However, the biggest ones—the most heartbreaking and breathtaking ones—all included him.
I was ten years old when I lost my voice. A piece of me was stolen away, and the only person who could truly hear my silence was Brooks Griffin. He was the light during my dark days, the promise of tomorrow, until tragedy found him. Tragedy that eventually drowned him in a sea of memories.
This is the story of a boy and girl who loved each other, but didn't love themselves. A story of life and death. Of love and broken promises.
Of moments.
ARIANNA's review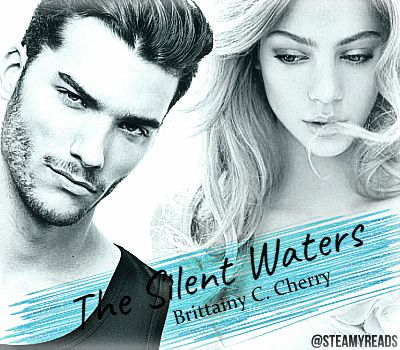 'The Silent Waters' is another wonderfully written story by Brittainy C. Cherry that I totally fell in love with. This author never ceases to amaze me with her amount of talent she possesses, with her amazing storytelling or with her unforgettable love stories that always are so unforgettable. This third book in the series was emotional, powerful, though-provoking, intense and like the other stories I've read by this author it made me feel so much.
"The world keeps spinning because your heartbeats exist."
Maggie's life changes completely when her single father meets Katie. Practically over the night Maggie seems to have everything a little girl wants and needs – a caring mother, a beautiful home and two new siblings she's eager to know better. From the moment little Maggie meets Brooks, his new brother' best friend, she's smitten beyond words. Even if Maggie is just a little girl she knows he's IT for her and she knows that someday he will become her groom. Years later when Maggie is just then years old something tragic happens. She loses herself, she loses her voice, a piece of her being stolen from her forever.
"I hadn't known you could hear someone's voice so clearly in the silent moments."
Maggie has a hard time moving on with her life. From that night that changes her life irrevocably, Maggie in some way stops living. She lives in silence, her pain and her demons being too much at times. The only one who seems to hear her, to hear her silence being her anchor over the years is Brooks, the boy who wants nothing more to fix the girl who means so much to him, the boy who constantly remembers her that she matters, that her voice matters.
"With each touch, I fell more for his spirit. With each kiss, I tasted a part of his soul.
In my mind, I whispered back to him, time and time again. With every tear and every heartbeat, I spoke to him. So quiet, yet so loud."
'The Silent Waters' was a fantastic read from beginning until the end and it touched me more than I can say. Maggie and Brooks's journey to happiness was intense, tumultuous and not very easy to read at times. However, I enjoyed it very much. I enjoyed every minute of it and I honestly experienced everything these two characters experienced as the story unfolded. Their love story was epic, beautiful and it made me feel so much.
I loved Maggie and Brooks individually and I loved them together. These characters were wonderful developed and so endearing. I liked Maggie's character from the moment she was introduced. I liked her as a little girl and I liked her as a woman. My heart broke for her and for how much she lost over the years. Her pain, her fears, her insecurities were wonderful portrayed. I felt them all as the story progressed, but I also felt her love for her family, her love for music and books and her love for Brooks. Her voice was powerful through the pages even if she didn't have a voice and the chapters written from her point-of-view were honestly so hard to read at times, so emotional.
Brooks was as amazing hero. He was sweet, caring, thoughtful, considerate and so much more. I don't have enough words to tell you how much I loved his character. But what I loved the most was the way he loved Maggie -unconditionally, how over the years he became her anchor, how he never gave up on her.
"Five minutes?" Five minutes. We stood there, staring at one another. Five minutes to erase any fears. Five minutes to remember who we were. Five minutes to find our own way, our own story.
Maggie and Brooks's friendship was beautiful. I simply loved the way they were with each other – their honesty, how easily they communicate with each other and I honestly loved all the sweet, heartwarming, but also heartbreaking moments between them. I never doubted these two characters are meant to be together because I felt how much they loved each other more and more with every single chapter.
As always, Brittainy C. Cherry's supporting characters were fantastically portrayed and endearing in some way or another. All of them played a role in Maggie and Brooks's story and all of them had so much depth. The supporting character I loved the most was Maggie's father. The relationship between Maggie and her father was pure and simple wonderful. He was such a great father, so loving and so caring. I have to mention the author's note in the end. It was short, simple, yet so powerful. Make sure you read it as soon as you finish Maggie and Brooks's story.
All in all, 'The Silent Waters' was another wonderful story by Brittainy C. Cherry. It was beautiful, it was special and it will make you feel so much from the beginning until the end.
"She was right about me, and her, and us. She'd be the one girl I'd love forever. No matter how life tried to change us."
[maxbutton id="13″ text="Also Read Nancy's Review" url="https://steamyreads.net/the-silent-waters-elements-3-by-brittainy-c-cherry-nancy/"]