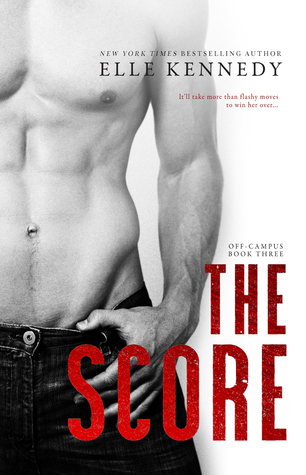 The Score
Off-Campus Series #3
Fiction, New Adult, Sports Romance
January 11, 2016

He knows how to score, on and off the ice
Allie Hayes is in crisis mode. With graduation looming, she still doesn't have the first clue about what she's going to do after college. To make matters worse, she's nursing a broken heart thanks to the end of her longtime relationship. Wild rebound sex is definitely not the solution to her problems, but gorgeous hockey star Dean Di-Laurentis is impossible to resist. Just once, though, because even if her future is uncertain, it sure as heck won't include the king of one-night stands.
It'll take more than flashy moves to win her over
Dean always gets what he wants. Girls, grades, girls, recognition, girls…he's a ladies man, all right, and he's yet to meet a woman who's immune to his charms. Until Allie. For one night, the feisty blonde rocked his entire world—and now she wants to be friends? Nope. It's not over until he says it's over. Dean is in full-on pursuit, but when life-rocking changes strike, he starts to wonder if maybe it's time to stop focusing on scoring…and shoot for love.
Val's Review
PISSED.
Pissed off is what I am.
Pissed off that it's over already, even though I tried to read as slowly as possible to savor the lurve.
And yet I was STILL done with the book we've all waited endless months for in less than four hours.
Boo.
But what can you do…
I even forced myself to take Bejeweled breaks, thanks to my new gaming addiction via Mr. Hubby.
whispered aside…Sir Man Meat said I would never be able to score as high as he does.
Pffffffffffft.
Real Life Fun Fact Alert: I call my husband "Rabbit" and "Bub," rarely by his actual first name.
So that above gif just became homie's favorite.
But I digress.
The book.
Elle Kennedy.
I bow down to you.
And to the Elle Kennedy Off-Campus Formula?
*
*
*

Done.
Wait, what formula, you ask?
Whelp, this one:
Hot hunk of hockey player who can (and usually has) fucked everything that moves because, you know, all the vaginas be like "please fuck me and my friend too."


Girl-next-door-hottie (who hot hunk of hockey player suddenly realizes is a hottie) is reluctant to get involved with said walking STD, but golly gee, she just can't fight the hotness and surprisingly scintillating hot man personality that is his hockey hotness


Hot as fuck "friends with bennies" situation somehow ensues because, you know, "casual fling," wherein which both hot hunk and hottie-next-door realize there is MORE to said hot person and they think they OMG lurve them…
Cue "in a relationship" facebook/Twitter/Instagram status
Skulduggery and intrigue suddenly proceeds to come afoot , creating an OMG conflict between said hotties
Cue temporary "it's complicated" facebook status
But never fear. Because true hotties always rise above.


HAPPILY EVER FUCKING AFTER
And there you have it folks.
The best NA/YA/You-fucking-name-it-A formula known to man.
And God BLESS Elle Kennedy for bringing it better than anyone else, day book in and book out.
Now, all joking about the above formula aside. There is a LOT of depth to these books that you don't always find in other NA books – or just plain ANY book for that matter.
The characters in this series deal with some major issues along the way. And not OTT "let's fucking out-tragedy each other issues," but REAL LIFE issues that occur or are occurring in real people's lives (OUR lives) everyday. REAL life problems and obstacles that cause legit grief and heartache.
So there's that.
Also, another awesome round of applause to Ms. Kennedy for the anti-slut shaming agenda that arose (pun absolutely erected) in this story.
All us sluts heartily thank you.
And that ending? Holy hot hockey-ness, people.
I'm sooooo fucking excited for Tuck's book that I can't even stand it.
So long story short, this is an AWESOME installment to what has become one of my favorite all time series.
If you love sports romance, mature NA, the above mentioned "formula" and haven't read this series yet? You are mos def missing out.
And with that?