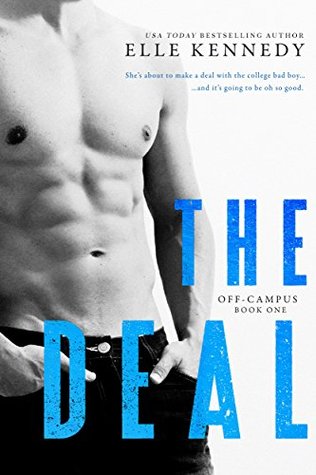 The Deal
Off-Campus Series #1
Fiction, New Adult, Sports Romance
February 24, 2015

She's about to make a deal with the college bad boy...
Hannah Wells has finally found someone who turns her on. But while she might be confident in every other area of her life, she's carting around a full set of baggage when it comes to sex and seduction. If she wants to get her crush's attention, she'll have to step out of her comfort zone and make him take notice...even if it means tutoring the annoying, childish, cocky captain of the hockey team in exchange for a pretend date.
...and it's going to be oh so good
All Garrett Graham has ever wanted is to play professional hockey after graduation, but his plummeting GPA is threatening everything he's worked so hard for. If helping a sarcastic brunette make another guy jealous will help him secure his position on the team, he's all for it. But when one unexpected kiss leads to the wildest sex of both their lives, it doesn't take long for Garrett to realize that pretend isn't going to cut it. Now he just has to convince Hannah that the man she wants looks a lot like him.
Val's Review
4 Sexy Sweet Stars
So I'm gonna preface this shit show of a review with a tangent.
Yesterday I started this detox thing that does not allow me to have coffee.
Which means I have not had ANY caffeine in my system for over 24 hours for the first time since junior high school.
Being that my typical daily intake of caffeine includes 3 cups of black regular, a mid-morning Americano with 4 espresso shots, and an afternoon quad latte…I am hurting like a bitch.
And my brain is in…"rarer" form than normal.
For serious though.
I caught myself singing Back in Black this morning like I was the lead singer of AC/DC.
So keep that in mind when reading this train wreck review.
This was my first Elle Kennedy and I really enjoyed it. The writing was good and there was enough drama for me without it being too angsty.
For my angst whores out there, I don't know if this would be enough for you…but for those of us who aren't always in the mood to feel nauseous when reading, this is a great option when you need an angst break.
Hannah was a good lead. She was smart and confident and pretty much had her shit together.
Garrett was the typical manwhore…
…because…romance novel…
…And also because – as a former college athlete who had a lot of college male athlete friends – they really are manwhores in real life.
And they really do have sorority groupie girls who throw themselves at them on the regular.
Seriously, I knew a girl who slept her way through half the basketball team and the majority of the soccer team.
Man, I was really tired that year.
Seriously, I kid.
*
*
*
*
*
*
*
*
*
*
*
*
*
*
*
I wasn't in a sorority.
And I preferred baseball players.
But I digress.
Hannah and Garrett were really cute together.
And I am always a sucker for the "let's pretend to be together and then oops we fall for each other" trope, which I thought was really well done here.
I will definitely read more from this author.
XXXXXXXXXXXXXXXXXXXXXXXXXXXXXX
24 hours after writing this review…