The Bad Boy Wants Me
Fiction, Contemporary Romance
Georgia Le Carre
July 7th 2016

Tori.
Cash Hunter is the sexiest bad boy Brit on the planet!
Yeah, he's famous, tattooed, and ridiculously hunk-a-licious, but he's also filthy-mouthed, cocky, crude, and a dyed in the wool womanizer.
And now he wants me! I've said, no, constantly, but apparently he doesn't take no for an answer. Everywhere I turn he seems to be around with those smoldering hot, seductive green eyes.
OMG, the air is crackling with sexual chemistry and I don't know how long I can resist.
Cash.
In my world, girls don't say no. Everybody wants a piece of Cash Hunter. It's use and get used, and it suits me just fine.
But all Tori Diamond gives me is sass, and fucking more sass. I'm a player, I don't chase pussy, but damn if I can't stop thinking about that fiesty, wildcat beauty. She turns me on so fucking bad it hurts. Fine. She's a challenge but I'm game.
She can pretend to resist me as much as she likes. We both know that act won't last.
First, I'll make her beg for me, then I'll make her mine...
ARIANNA's review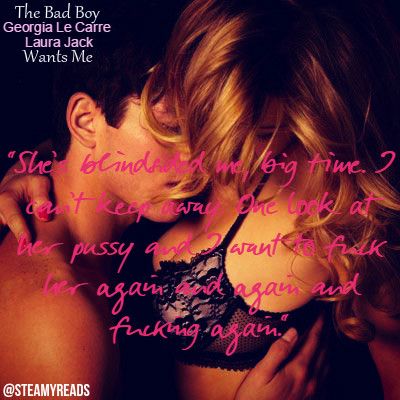 If you're looking for a sweet and sexy bad boy/rock star romance look no further. 'The Bad Boy Wants Me' was an awesome, entertaining read with just a little pinch of angst and drama that will suck you in from the very beginning. This was a little different from what I expected and from what I've read so far from Mrs. Le Carre, but in spite of that I really enjoyed Cash and Tori's story!
"I've read the side effects warning label: This @ssh*le is likely to break your heart."
Cash Hunter is a bad boy and a rock star, so everyone knows who he is. The lead singer of "Alkaline", Cash loves his life, the attention, the parties and of course the women. He's cocky and crude and he always gets what he wants. When he meets Tori, his sister, Britney's PA he's taken aback by her beauty from the very beginning. Tori is sexy and funny and seems to want nothing to do with him, but Cash is more determined than ever to have Tori in his bed.
"She's so hot she's bouncing with it. And that attitude of hers. Talk about a badass mouth. I can already see it full of my dick."
Tori has been in love with Cash since forever, loving his good looks, his cocky grin and his voice. She knows her "little obsession" is not healthy, especially since she can't fully live her life like she wants to, so she's determined to somehow conquer her crush. When she's hired to be Britney Hunter's PA, Tori is more than happy since she will finally meet the notorious bad boy. She's convinced Cash will end up being a douche so she's convinced her crush will be just a crush.
Tori finds out pretty soon that Cash is more than a bad boy. They slowly become friends and as they get to know each other better their friendship blossoms into something more.
"You can't outrun lust. It was moronic of me to even think I could. Pure lust is like a spell. It dazes and compels you to do what you know you shouldn't. It is impossible to resist. "
This one was a little predictable and maybe a little bit cliché, but it worked for me. It was sexy, it was fun and light for the most part and most important it was exactly what I was in the mood for. I liked how the story progressed and how gradually the relationship between Cash and Tory changed. The same thing I could say about their connection. It was awesome seeing these two connecting on so many levels. Cash and Tori were really great together. I loved the back and forth between them, which btw it wasn't too much to be annoying, the playfulness between them which was sexy and entertaining as hell and their easy banter, especially at the beginning.
Both main characters were engaging and likeable and their character growth was well done. Cash was more than a bad boy. He was a great brother to his sister Britney. I loved how caring and protective he was with her. As the story unfolds we get to see "another" Cash – sweet, caring, thoughtful and I totally loved this side of him. He was pretty awesome in bed too and a pretty great dirty talker.
"My hands reach out and grab fistfuls of hair as I pull his head down and feast greedily on his mouth. It's like matter and antimatter touching. We explode. There is no other way to describe the violent hunger. I've never felt more alive."
I liked Tori too. She was fun and sweet, but honestly I would have wanted for her to be honest with Cash from the beginning.
Overall, a sweet and sexy, delightful read!