Sordid
Fiction, Dark Erotica
May 29th 2016

It took me years to find the courage to speak to Luka. He seemed exactly like me. Intelligent. Focused. Serious.
But he's not the man I imagined.
His reality is cruel and dark. He traps me in his web, his power twisting tighter the more I struggle, until it's hopeless. I can't break free.
As he drags me unwillingly into his filthy world, I can't ignore the terrifying idea circling my mind. What if I belong here with him?
NOTE: This is a dark romance, and intended for mature audiences only.
ARIANNA's review
Nikki Sloane is a new to me author, so I didn't know exactly what to expect. I found the title and the cover to be intriguing and reading the blurb I just knew I had to read it. Mrs. Sloane delivered an interesting enough erotic dark tale that many readers will find enchanting. If you are not easily offended than you may like this one, but keep in mind the story has one scene that is very graphic, disturbing a non-consensual sex-scene.
"The more you fight, the worse it will get. Just accept I am in control now. I own everything." He made a production of sweeping his gaze downward. "Your body. Your time. Even your choices. Those are all mine now, Addison."
Addison is a dedicated, hardworking senior and all she wants is to get into medical school. Spending all her life driving toward a medical degree, everything else had been neglected, including her social life. Needless to say over the years she didn't have many relationships. She's not looking for one, not only because of her aspirations, but because she's still dreaming of Luka, her teaching assistant from Calculus. Luka never seemed interested in her, so when at a frat party they meet again and Luka seems somehow interested, Addison is more than surprised.
"His expression was seductive and sinister. Scary, and yet . . . enticing."
Addison's life changes completely when she meets again older, fascinating Luka. He is not the boy Addison thought he is. He is dark, calculated and slowly he will manipulate and drag Addison in his dangerous and filthy world.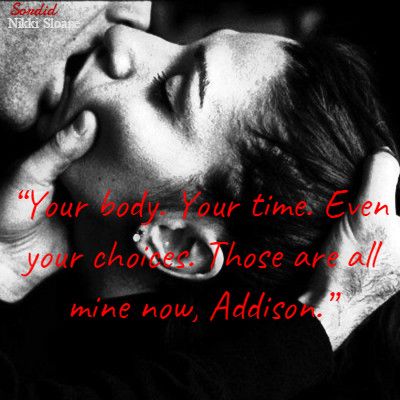 I found the premise to be truly interesting and I think the story had a lot of potential, but sadly most of the aspects here were just okay for me. Since I love dark reads, I wasn't bothered by the graphic scene I mentioned above. After all, it's fiction! Both Addison and Luka were nicely portrayed, but unfortunately I can't say I liked them. Luka was a great hero/ antihero, at least in the beginning. His backstory was nicely done. Cold and manipulative, he was an interesting character, until his mood swings got on my nerves. His transition from a ruthless captor to a sweet, yet possessive, intimidating hero was way to rushed and unbelievable in my opinion.
Addison was your usual heroine in a dark romance – naïve, inexperienced etc. For someone who is supposed to be smart, Addison acted (most of the times) like a dumb little girl. She accepted her new situation to fast for my liking. Needless to say I would have wanted for her to fight more. That being said, there was no push and pull between these two, which honestly I didn't like at all. The plot was another thing that didn't work for me. It was lame, underdeveloped and pretty predictable. On top of that, there were no twists and turns to make me be more engaged in these two characters' story.
One aspect that I liked was the steam aspect. The story is pretty hot. There are plenty of dirty sex scenes, but a little too many IMO. I know this is a dark erotica, but personally I wanted more story, more suspense, more something…anything.
Overall, this was just an okay read for me, but just because it didn't work for me, doesn't mean it won't work for you!