Silver Bastard
Silver Valley #1
Fiction, Contemporary Romance
April 7th 2015
First in the new Silver Valley series from the New York Timesbestselling author of the Reapers Motorcycle Club Novels
Fourteen months. For fourteen months, Puck Redhouse sat in a cell and kept his mouth shut, protecting the Silver Bastards MC from their enemies. Then he was free and it was time for his reward—full membership in the club, along with a party to celebrate. That's when he saw Becca Jones for the first time and set everything in motion. Before the night ended he'd violated his parole and stolen her away from everything she knew.
Five years. It was five years ago that Puck destroyed Becca and saved her all in one night. She's been terrified of him ever since, but she's even more terrified of the monsters he still protects her from... But Becca refuses to let fear control her. She's living her life and moving forward, until she gets a phone call from the past she can't ignore. She has to go back, and there's only one man she can trust to go with her—the ex-con biker who rescued her once before.
Puck will help her again, but this time it'll be on his terms. No more lies, no more tears, and no more holding back what he really wants...
This edition only: A new Silver Valley story
Val's Review
4 Bangin' Stars
So I most assuredly have a fever for MC Club books and Joanna Wylde definitely knows how to bang my cowbell.
Whatever you expect to get from a Joanna Wylde book, Silver Bastards absolutely delivers.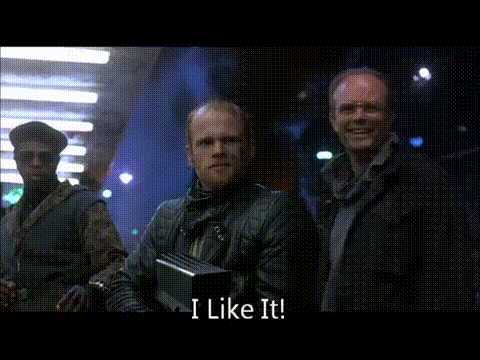 The overall feel of the story is very similar to other Wylde books (which can be a good or bad thing depending on your POV) – although this one most definitely has a twist at the start.
For those of you who have problems with (view spoiler), this might be a problem for you.
For me?
Pfffffft.
I know it's wrong and blah blah blah [insert profound and meaningful social commentary here], but it just doesn't bother me.
In fact, I dig it.
Because….slutty.
#SorryNotSorry
Other than that, like I said, this book has a lot of the same elements as all Wylde's other works.
Manwhore MC biker meets "the one," they have some push/pull, shenanigans ensue, and let's not forget:
And boy do they ever in this book.
Seriously though, they were double clicking her mouse all over Kingdom Cum.
Some may consider all this somewhat formulaic – and it is, make no mistake – but let's be frank, we aren't re-inventing the wheel here people.
And I like it.
Because sometimes it's just nice to know that your Snickers bar is going to taste like a damned Snickers bar.
And because I'm not one those "I must have originality" snobs.
I am a snob, mind you…just a snob with questionable standards, the attention span of a tic, and the ability to read the same thing over and over again.
But I digress.
My only real complaint with this book?
Becca.
Not the brightest bulb in the box, people.
Seriously, this seems to be common to most of Wylde's lead females – perhaps in order to facilitate the ever needed damsel in distress scenario, which I'm totally not knocking because me likey – but Becca seemed to be a more special brand of idiot than most.
But as much as Becca annoyed me, Puck put the hot in my tamale.
Overall, I really enjoyed this story.
There were moments when I didn't always feel Puck and Becca's connection, but at the end of the day?
I definitely got enough cowbell.