Showmance
Showmance #1
Fiction, Contemporary Romance
Createspace Independent Publishing Platform
May 16th 2016

Damon Atwood was Hollywood's golden boy. Having won an Oscar at the tender age of thirteen, he had the life many could only dream about. But his success came at a price, and after a short but fruitful film career, he chose to live a life of obscurity on a remote Scottish island. Almost a decade later he's finally ready to make his return, starting with a lead role in a musical on London's West End.
As a choreographer's assistant, Rose Taylor has always faded into the background. She watches shows come to life from the side lines, but has never craved the attention of stardom. When rumours begin circulating of Damon's involvement in her latest gig, she doesn't predict how she will be thrust into the limelight, nor how the mysterious and strangely introverted man will need her to teach him how to be a star again.
Rose knows that show crushes don't last. Actors fall for each other during the intensity of a production, often losing themselves in their roles. These kinds of affairs burn bright and then they fade. The question is, should Rose let herself shine with Damon, or guard her heart from being broken after the final curtain call?
ARIANNA's review

Once again L.H. Cosway delivered an enthralling read that capture my heart from the beginning until the end. There's no secret I adore her stories and her characters and I find her writing to be impeccable each and every time. 'Showmance' was not my first read that features the magnificent world of theatre, but it was without a doubt the best. Everything was stellar. From the emotions this magnificent world evoked to all the wonderful settings, everything was vividly portrayed. Needless to say I was engrossed in this story from the very beginning.
"The man was such a contradiction, with the rugged looks of a heartthrob and the personality of a hermit just coming out of hibernation."
Former child star Damon Atwood had been out of the limelight for almost a decade. After he cut all ties with everyone from the film industry he decided to live on the island of Skye with his grandmother. On his grandmother's death bed he promises to revive his art and the next day he's ready to keep his promise when he accepts to take the leading role in a theatrical musical.
"She was a sea of calm to my troubled thoughts, and I wanted to feel more of that."
Rose Taylor is a dancer, a talented dancer who never craved the attention of stardom, preferring to work just as a choreographer's assistant. She's trying to get over a breakup truly believing she chooses the worst men to fall for. Knowing very well she has a weakness for actors, she makes herself a promise – not to fall for another actor anytime soon.
From the moment Damon lays eyes on Rose he simply knows she's different from any other woman he met before. She's friendly and warm and every time he is around her he feels that he can be himself, feeling alive.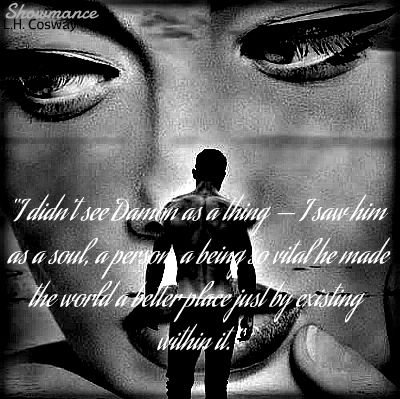 "I want all of you, Rose, not a quarter or a third or a fifth. I want everything."
I really enjoyed this one! Not my favorite book by this author, but I enjoyed almost every aspect of this story. As always Mrs. Cosway's writing was flawless, engaging and her storytelling was simply fantastic. My favorite aspect of the story was our hero, Damon. Damon was such an endearing character. He was so swoon-worthy and I fell for him from the beginning. I loved his portrayal. He was so different from any other main male characters I've read about in a long time. A complex man, Damon is handsome, rough around the edges, awkward and closed off. At least at the beginning. I loved how he was with Rose, our heroine from the beginning. He was so sweet, caring and also patient with her as the story unfolded. He really charmed me. Rose was a lovely heroine, but to be honest I didn't enjoy her character as much as Damon's. She's sweet and caring and genuinely a good woman, but at times she was frustrating as hell.
"I see you perfectly, and I like what I see. I always will."
I liked how she helped Damon in some way or another. She was thoughtful and considerate and I totally believed she was the perfect match for him.
The slow build relationship between Damon and Rose was done pretty well, but I have to admit at times I would have liked the pace to be a little different. I loved the connection between them and of course the sexual tension that was fantastically done. Overall I think they were good for each other and perfect together. All the sweet and sexy moments between them proved that repeatedly.
What it didn't work for me was all the drama that occurred as the story unfolded. To be honest I found it to be unnecessary and it got on my nerves. I would have preferred the story to be angst and drama free. For me it would have been much better!
That being said, I enjoyed this lovely romance and even if it wasn't a total winner for me I highly recommend it! I'm sure many readers will love it!
"We fit together perfectly. There was no one else for me. If I couldn't have Rose, I was condemning myself to a life of halves, and I wanted to live a whole one."