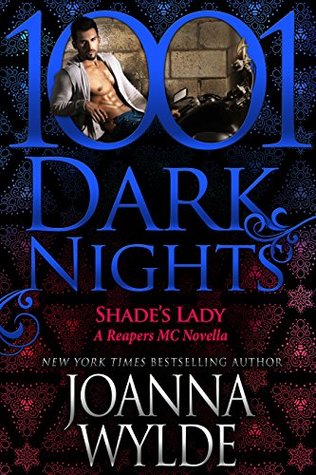 Shade's Lady
Reapers MC #6.5
Fiction, Contemporary Romance, Motorcycle Romance
March 14, 2017
New York Times bestselling author Joanna Wylde returns to the world of the Reapers Motorcycle Club…
Looking back, none of this would've happened if I hadn't dropped my phone in the toilet. I mean, I could've walked away from him if I'd had it with me.
Or maybe not.
Maybe it was all over the first time he saw me, and he would've found another way. Probably—if there's one thing I've learned, it's that Shade always gets what he wants, and apparently he wanted me.
Right from the first.
Val's Review
4.5 Stars
After not loving some of the more recent offerings from this series…
…I'm talking about you Reaper's Fall and – even worse – Reaper's Fire…
Sorry, Gage/Talia flashbacks…
As I was saying.
After the two catastrophes mentioned above, I was a little wary about where the next book might take us – and whose dirty snatches our supposed "Heroes" might find their dicks buried in – but thank GAWD this one was not like that.
I really enjoyed this little nugget.
I really felt the connection between Shade and Mandy and there was a super solid plot – especially considering this was a novella.
The depth Wylde was able to achieve with these characters in such a truncated amount of page time was pretty impressive. In fact, I think Wylde must have been pluggin' along writing this and then realized:
"Fuck, this is supposed to be a novella, isn't it?" – and so decided to abruptly end the book right there lol
That's my – and a lot of people's methinks – only beef with this book.
Which is a pretty decent beef to have, all things considered.
I'll take it any day for the awesome that came before it.
This re-electrified my interest in there series for sure and I look forward to the next one.