Rhythm, Chord & Malykhin
Fiction, Contemporary Romance
August 21, 2015
398

Twenty-six-year-old Gaby Barreto might be a lot of things (loyal, sarcastic, one of the guys and a pain in the butt depending on which family member you ask), but dumb isn't one of them. When her twin brother invites her to go on tour as his band's merch girl, she isn't exactly screaming at the top of her lungs with joy.
With no job opportunities pounding on her door, an ex-boyfriend she would still like to castrate, and no end in sight to moving out of her parents' house in Dallas… it would be dumb to say no to the chance of a lifetime. Two bands, three continents, one tour. Spending the next ninety-plus days with three beloved idiots and eight complete strangers shouldn't be a big deal, right?
If only the singer of the headlining band didn't have tattoos... a great personality… a fantastic body… and if he wasn't so funny….
Let's be real: Gaby never had a chance against Sacha Malykhin.
"He was the end to my beginning."
➦I'm a huge fan of Zapata's. She if a queen of slow burn and I absolutely loved [bookcover:Kulti|24044596] and [bookcover:The Wall of Winnipeg and Me|28318522]. This book, unfortunately, didn't do it for me. I did like it, I just didn't love it.
➦We have Gaby, our heroine, who goes on tour with her brother's band to work as a merch girl. There she meets Sasha, a lead singer of the headlining band who is also on tour with them. They spend the next three months together on the road and build their friendship, which develops into love.
❤I loved the supporting characters and some of the crazy/funny things they did. Gaby was on a bus full of guys, her life was not easy and slightly uncomfortable and times… and funny.
✘Gaby annoyed me to no end by the end of the book. I don't think I've ever read about a more delusional heroine before. She took the "I'm not sure he wants more than friendship" to the next level. I think at one point while I was listening to the audio book I screamed something along the lines of "Why don't you just fucking ASK him?" She has no problem talking about anything else other than things that matter.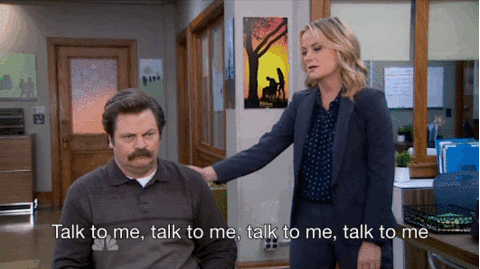 ✘I can understand multiple jokes with references to hookers, but I don't really understand slut shaming. I didn't particularly care for it, it was not needed! Gaby sees some girls in skirts waiting to get autographs next to the band members and thinks to herself "Prostitutes!" Really? Then she meets the hero's ex and thinks "Slut!" on multiple occasions! I understand she was insecure about her appearance but she just came off as bitter.

➦The hero… he was incredibly sweet, caring, talented, fluffy and… too damn perfect. He was just so tame (especially for being a star)! I don't know, I couldn't find any flaws in his character and that also kind of made me a bit detached from him. He was always there, always waiting… waiting for Abby to talk herself through some shit she was imagining to herself. argh.
➦If you like slow burn, friends to lovers and romances about rock bands this book might be for you.