Reaper's Stand
Reapers MC #4
Fiction, Contemporary Romance
October 7th 2014
As Reapers Motorcycle Club president, Reese "Picnic" Hayes has given his entire life to the club. After losing his wife, he knew he'd never love another woman. And with two daughters to raise and a club to manage, that was just fine with him. These days, Reese keeps his relationships free and easy—he definitely doesn't want to waste his time on a glorified cleaning lady like London Armstrong.
Too bad he's completely obsessed with her.
Besides running her own business, London's got her junkie cousin's daughter to look after—a more reckless than average eighteen-year-old. Sure she's attracted to the Reapers' president, but she's not stupid. Reese Hayes is a criminal and a thug. But when her young cousin gets caught up with a ruthless drug cartel, Reese might be the only man who can help her. Now London has to make the hardest decision of her life—how far will she go to save her family?
Val's Review
5 Unexpected Stars!
***Spoilers May Ensue***
So I will start by saying that – not gonna lie – I was not really all that excited about this installment of the Reaper's Series. Picnic kinda pissed me off in the last book by 1) beating the ever living $H!T out of my Hunter and 2) banging every barely legal-less-than-half-his-age chick at the rodeo.
So needless to say, my expectations to love this were not that high above "fair to middling."
But then I read the prologue.
And I was like:
Now, I was still not Picnic's number one fan for a while – especially after (view spoiler)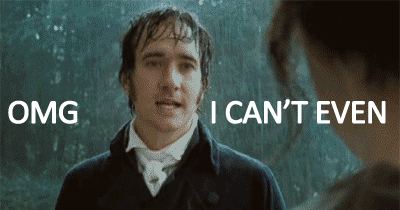 I was ready for London to say fuck you and head for her namesake then and there.
But then Picnic kind of, sort of, not really realized he fucked up for no reason and that (view spoiler) and kind of, sort of, not really made amends.
And London and Picnic realized that you really can't lose that lovin' feelin'.
Needless to say, HOTNESS then ensued.
And then intrigue.
And drama.
And cameos.
And just plain awesomeness.
Overall, I just loved the story line. For once a book that began with a climax middle scene actually lived up to that moment.
I also really liked London. She was a hard working, tough, grown ass woman with a realistic outlook and a propensity for space cadet moments – which I totally dig as I am very frequently somewhat apt to zone out moments myself… #spacecadetsunite
But perhaps my favorite element of the story?
I can't wait for the next one!