Reaper's Fall
Reapers MC #5
Fiction, Contemporary Romance
November 10th 2015
He never meant to hurt her.
Levi "Painter" Brooks was nothing before he joined the Reapers motorcycle club. The day he patched in, they became his brothers and his life. All they asked in return was a strong arm and unconditional loyalty—a loyalty that's tested when he's caught and sentenced to prison for a crime committed on their behalf.
Melanie Tucker may have had a rough start, but along the way she's learned to fight for her future. She's escaped from hell and started a new life, yet every night she dreams of a biker whose touch she can't forget. It all started out so innocently—just a series of letters to a lonely man in prison. Friendly. Harmless. Safe.
Now Painter Brooks is coming home… and Melanie's about to learn that there's no room for innocence in the Reapers MC.
Val's Review
So I'm short on time – and PRETTY FUCKING PISSED OFF RIGHT NOW to be honest – as I accidentally deleted the long ass fucking review I wrote for this shit; however, I want to get this done because I know I am going to fucking forget everything about this book shortly.
Because, let's be honest.
I can't remember what I had for breakfast yesterday.
Or if I even HAD breakfast.
So, all bullshit aside, this is going to be short, crude, blunt and heavy on the profanity. #sorrynotsorry
Or in my case…shorter, cruder, and blunter-ER, and profane-er-ER.
So off we go.
*
*
*
I didn't love this.
And here's why:
1) Melanie and Painter
Yup, that's right, the two main fucking characters.
These two jackasses fiddle-fucked around so much I was getting annoyed.
For real though, I don't think these two idiots could find their way out of a cardboard box with a flashlight and an exact-o knife.
Their constant back and forth and Painter's "I want you, but I can't have you" bullshit was like watching a cat trying to slow crawl in tap shoes on a hardwood floor.
I mean Jaysus fucking Crisco.
Figure. It. Out for fuck's sake.
2) Just Melanie By Herself
Good GOD, this woman fucking annoyed me.
And don't even get me started on Painter.
Actually, fuck it.
3) Just Painter
I haven't liked Painter since, well, EVER.
He came across as a fucking douche canoe in Em's book and grossed me out to boot.
And he sure as shit didn't redeem himself here.
But you know what they say:
You can't fix stupid.
Or jackass, apparently.
I mean, they way he kept jacking Melanie around?
His reactions to…certain things?
And his attitude of "You and me and OUR child are TOTALLY meant to be a family…
…but until you come back to me, let me just keep fucking around with dem club skanks."
I'm sorry, that's just gross to me.
I know it SAID he fought for her and tried to get her back…but NONE of that ACTUALLY took place on page.
Which brings me to my biggest pet peeve of them all…
4) FLASHBACK HELL
This story started off my least favorite way.
The big dramatic prologue that grabs your attention and holds you captive…but then ends on a cliffhanger with a "Five Years Earlier…" right after that.
Holy shit I can't even describe it, I fucking hate this so much.
Now, I already knew this author starts her books like this. Because I've read the whole series, so duh, no surprise there; I never love it, but at least I know to expect it.
And I'm basically agreeing by default to suck it up and overlook my own pet peeve by recognizing that and yet still choosing to read a book I know will most likely go that route.
However…
HOWEVER.
THIS time?
*
*
*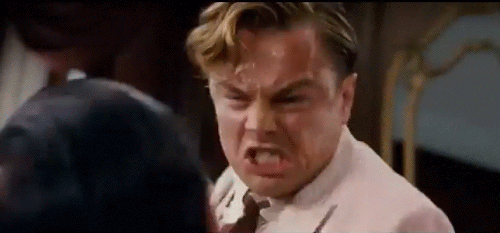 Holy fuck, people, this one was the worst I've ever seen.
Because usually it starts with a moment that – no matter how crazy – we WANT to get back to. Even if we have to spend the whole book doing exactly that – for something that is usually a let down, mind you – but still, we WANT to get there.
In this book though, I didn't even WANT to get back to where we started.
Because the first thing we learn is that they have a kid together, have been broken up for year(s) AND he "doesn't care whose dick Melanie sucks" as long as it isn't a biker's?"
Gee, that sounds just swell.
Sign. Me. Up.
Can't fucking WAIT to get back there!
I mean really, Hold. Me. Back. From. Mr. Incredible.
NEGATIVE, Ghostrider.
I don't love reading an entire book overwhelmed with a sense of depressing dread and impending doom.
It's just not what homie would call a good time.
And, on top of that, this story had such massive time jumps with important (at least to me) things happening off page that I felt cheated. And I felt like I just couldn't connect with Painter and Melanie individually or as a couple.
In fact, Painter and Melanie are separated – both physically as well as emotionally – for the bulk majority of this book.
Overall, this was a decent read for me; but, quite frankly, I didn't love where it started and it just didn't meet my expectations.
And with that…