Pretty Stolen Dolls
Pretty Little Dolls #1
Fiction, Dark Erotica
September 26th 2016

Benny loves his pretty little dolls.
As long as they do exactly as they're told.
He keeps them perfect by brushing their hair
and gives them pretty dresses to wear.
He likes to toy with them late at night.
One so timid but the other likes to fight.
When his favorite doll runs away...
despite the other doll promising to stay,
his heart becomes broken and he can't help but cry.
He wants her back home or his pretty little doll must die.
Have you ever had to make a decision that haunts you every single day for the rest of your life…the life you stole back?
I have.
I ran for my survival, rocks and twigs cutting into the soles of my feet, my lungs burning and screaming for rest, every muscle tensed and fighting along with me for existence.
I left her.
I ran, ran, ran—from Benny and his lone, pretty little doll—until I couldn't remember where to find them again.
I'm sorry.

show all books in this series
ARIANNA's review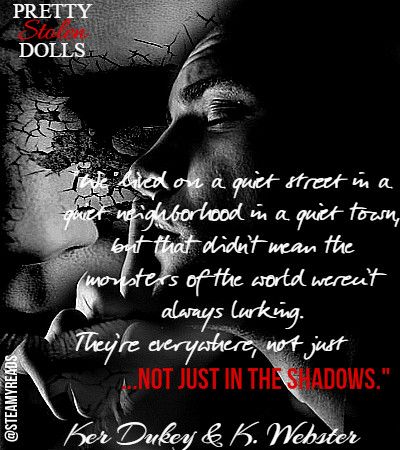 Well, dayum! What a thrilling story this one turned out to be! Since I've read this two authors before I already knew what to expect – something, dark, thrilling and of course crazy, but this first two authors' collaboration was so fucked-up…in a very good way. 'Pretty Stolen Dolls' was pure and simple fascinating and trust me when I say it will suck you in from the prologue. This first installment in the series has just a little bit of everything for you to be blown away from the start – mystery, suspense, steam and some dark themes that I personally loved. Needless to say, if you are like me, an avid reader of dark books, you will not want to miss this one!
"There's my dirty little doll. So wild and scared, but still so fucking pretty."
Jade and her little sister Macy have been always warned by their father that evil exists, that demons are lurking not only in the shadows. When Jade is just fourteen years old, she and her sister meet Benny, a young man who sells dolls. At first Jade wants for Benny to notice her, even if she's aware of the age difference between them, but everything changes for her and her sister when Benny kidnaps them. They are held captive in Benny's dark basement being starved and beaten, becoming his living dolls. Jade manages to escape the hell she lived in for so many years when she's eighteen. Escaping alone, without Macy, Jade wants nothing more than to save her sister.
"This is what I do. I'm like a poison, polluting the people I care about."
Years later, Jade is a Homicide Detective and despite the fact that she escaped her captor years ago she's still a prisoner. She's damaged, for years feeling guilty that she couldn't save her sister from Benny's dirty hands since the police couldn't find where Benny held her. All she wants is to find her sister and make Benny pay for everything. She vows to find Benny no matter what, but what happens when Benny finds her first?
"I'm not a pervert," he chants as he rapes me. I'm dying beneath him. Darkness fogs my eyes and my head spins. "Only you, little doll. I don't need another."
'Pretty Stolen Dolls' was such a crazy ride! It was gripping, dark and gory and I enjoyed every minute of it! I loved the well-developed, complex plot and how the story unfolded. The story was unpredictable from start to finish and told in a such a way that you will be at the edge of your seat almost the entire time.
This first installment in the series was more than a dark read. It was a fantastic blend of mystery and suspense, very graphic at times that totally blew me away. Personally I would have preferred the story to be darker and less suspenseful, but I have to say these two authors did a great job balancing every single one of these aspects.
Benny and his obsession with dolls were very fascinating. His character was creepy and disturbing, but fantastically portrayed. As much as I found him to be sick as f@ck, I have to say I was a little…or more mesmerized by him. Jade was a great heroine. I really sympathize with her and I found her strength and determination to be admirable. She was definitely not the usual damaged heroine and I liked that about her. Dillon was another great character. I really liked him! The way he understood and supported Jade at times were really fantastic and their relationship was awesome.
This first installment ends with a cliffhanger and I can't wait to find out how the story will progress.
Overall, an intense, creepy, intriguing read!