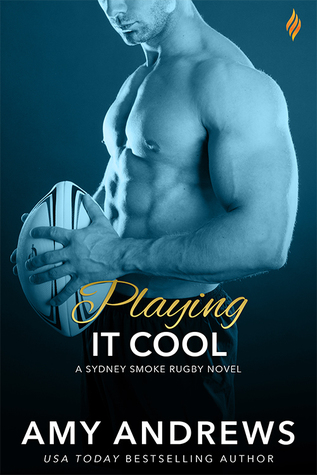 Playing It Cool
Sydney Smoke Rugby #2
Fiction, Contemporary Romance
Entangled Publishing
September 12, 2016

Harper Nugent might have a little extra junk in her trunk, but her stepbrother calling her out on it is the last straw… When rugby hottie, Dexter Blake, witnesses the insult, he surprises Harper by asking her out. In front of her dumbass brother. Score! Of course, she knows it's not for reals, but Dex won't take no for an answer.
Dexter Blake's life revolves around rugby with one hard and fast rule: no women. Sure, his left hand is getting a workout, but he's focused on his career for now. Then he overhears an asshat reporter belittle the curvy chick he'd been secretly ogling. What's a guy to do but ask her out? It's just a little revenge against a poser, and then he'll get his head back in the game.
But the date is better than either expected. So is the next one. And the next. And the heat between them…sizzles their clothes right off.
Suddenly, this fake relationship is feeling all too real…
Nancy's Review
This was a cute and quick read and my very first Amy Andrews book.
Harper is a curvy woman and she knows it. Imagine her surprise when hot rugby player, Dex, asks her out on a date in front of her stepbrother; the stepbrother who was insulting her because of her weight.
Dex isn't looking for a relationship because he only wants to focus on his career. Rugby is his number one priority and as the story progresses you'll understand why. And he's straight forward with Harper that he doesn't do commitment.
"I just can't afford the distraction of sex with you, Harper, because…man…" He stared at her mouth. "I have a very bad feeling that I might not want to stop…"
Dex was a great hero. Anytime someone tried to bring Harper down, he was there; reassuring her that she was beautiful. He was great with her and her twin siblings, yet the way he dealt with his feelings frustrated me a bit. I think he could've handled the situation better towards the end. The ending was also a bit too rushed and a bit too cheesy for me.
So while I thoroughly enjoyed this one, I didn't love it. I did like it enough that I'll be looking forward to reading the next book in the series. The writing was well done, the dynamic between the couple was amazing, and the sexy times were exactly that… SEXY!
"As far as Dex was concerned, he wanted everything. All of her. Spread out on his bed. Plastered against the tiles in his shower. Bent over his dining room table. He wanted her hot and wet and needy. He wanted his name on her lips and the smell of their sex on her skin."
The story is low on angst and drama; which I highly appreciated. It also has great humor with a side of great secondary characters, a feisty and curvy heroine, and a hot, dirty talking rugby player.