Out of Bounds
The Summer Games Series #2
Fiction, New Adult, Sports Romance
August 1st 2016

I despise Erik Winter.
He's arrogant and cruel—a man I wouldn't wish on my worst enemy—and by some twisted turn of fate, he's my new Olympic gymnastics coach.
I've had to contend with gruff coaches in the past, but Erik is far worse. His stern demeanor complements a body built for intimidation, and his reprimands come from a mouth so cunning, I know it could strip me of my defenses—if I let it.
Though each of us would love to be rid of the other forever, we are bound to each other by need and necessity. I'm his rising star, his best shot at proving himself to his critics. And without a coach, I have zero chance of winning gold in Rio.
The easiest way forward would be to wave a white flag and make peace with the man I'll be sharing close quarters with for the foreseeable future, but he is intent on war.
Fine. By. Me.
If he pushes me, I'll push back harder. If he wants to test me, to play with my head, I'll show him just how many boundaries I'm willing to cross. Because I know it's not a choice between winning or warring—not if you can have them both. At the end of it all, I plan on leaving Rio with gold around my neck and his icy heart in the palm of my hand.
ARIANNA's review
If you have read and enjoyed 'Settling the Score', the previous installment in this series, then I'm pretty sure you will love 'Out of Bounds' as well. This second installment in R.S. Grey's newest sports romance series was simply wonderful. Intense (for the most part) and so very gripping from the first page, this second book in the series was hotter than I had anticipated. In fact, it was the hottest book I've read by this author so far. But here's the thing, Rachel delivered more than a steamy sport romance. 'Out of Bounds' has a well-developed plot, engaging characters, witty banter and great interactions between the main and supportive characters. Needless to say, every aspect of the story was done really well.
"She was probably used to testing her maturity and newfound confidence around hesitant boys closer to her age, but the lesson to be learned was that unlike boys who are intimidated by feminine boldness, men like me are inflamed by it."
Everyone in the gymnastics world and not only knows who Brie Watson is. Brie is the Cinderella of the Olympics, she's the girl who everyone expects to win Gold for USA at the Olympic Games. Brie has always been a hardworking girl. Even if she has already won different major competitions, she wants to win at the Olympics more than anything. Growing up with a single parent, Brie knows how hard it must have been for her mother to raise her, especially since gymnastics is expensive. She wants to win for herself, but mostly she wants to win for her family. Brie arrives in Seattle to practice with other four girls and there she meets her new coach, Erik Winter. Their first encounter doesn't thrill Brie at all. Dark haired, with blue eyes and broad shoulders, Erik is sexy as sin, a sexy asshole who's picking a fight with Brie at every opportunity.
"I've never been touched by someone like you," she said, leaning forward to drag her lips across my neck. "Show me what I've been missing."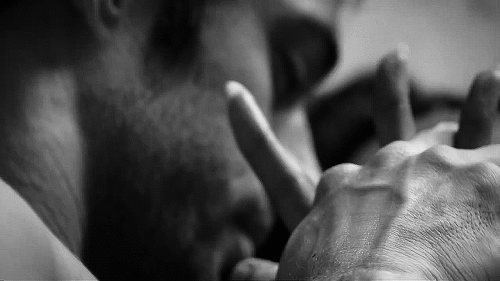 Erik is an ex-gymnast whose career ended in a very mysterious way ten years ago. No one knows what happened with him back then and why he decided to retire from the gymnastics world. While he wasn't the first choice in coaching the Olympic gymnasts, he was the best choice since he has the necessary experience. However, everyone expects for him to fail. Erik is willing to do anything to prove everyone that he's worthy of coaching the Olympic team so he just has to stay focused and do what he does best. But this task becomes harder and harder when one of his gymnasts constantly mocks him pushing his buttons like no other.
"Reading between the lines of her defiance gave away the extent to which my presence had affected her. Around me she was a ticking time bomb, but then again, she had lit my fuse as well."
Sparks starts to fly between Brie and Erik, both of them trying hard to fight the strong attraction between them. But how can you fight a sexual tension so tick like the one between them? How can they remember that one is the coach and the other the gymnast when the chemistry between them is off the charts?

I really enjoyed this entertaining sports romance. Mrs. Grey's flawless writing and effortless storytelling won me over from the beginning. The pace of the story was perfect. Nothing was rushed and I didn't find anything to be boring or OTT. Once again this author proved that she's a fantastic writer doing a wonderful job with all the details about the sport in case (gymnastics) and the Olympic Games. I found all the information to be very interesting and despite the fact that I don't usually find this type of info very "necessary", this time I really appreciated it. Maybe because once upon a time I used to love this sport.
The two main characters were fantastically developed. The author did a great job with both Brie and Erik's characters, both of their backgrounds being well done. Brie was an endearing, relatable character I loved from the beginning. She's strong, hardworking, determined and such a spitfire. I loved the fact that she wanted so badly to offer her mother a better life, but I have to say her stubbornness and also her immaturity (in some way) got on my nerves a little as the story progressed. I have to say her outspoken ways were entertaining as hell, but I would have liked her to be a little more mature at times.
"…after seeing him, I wanted to protest. Surely they'd made the wrong choice. He was too young, too handsome, too much."
If you love assholes in your books, then you will love Erik, because our hero is the epitome of an asshole. As much as I love douchebags/assholes/etc. I have to say Erik was a little bit too much at times. Obviously I understood why he tried to fight his attraction toward Brie, but I think he exaggerated at times. He was cruel, distant, chilly and an arrogant prick…in the beginning. However, I loved his possessiveness and his challenging ways. As the story unfolded he proved that he can be thoughtful, considerate and even a little bit of sweet and eventually..yeah, he won me over.
"I WAS PLAYING with fire—no, I wasn't just playing with fire; I was rolling in it. I was so confident I wouldn't get burned, I didn't realize how deep into the flames I'd fallen."
My favorite aspect of the story was without a doubt the push and pull between the two main characters. Mrs. Grey did such a wonderful job portraying the love/hate relationship between Brie and Erik. The dynamic between them was crazy in the best possible way, so yeah the chemistry between them was scorching hot. One of the best I've read in a long, long time. It goes without saying the sexual tension between them was so tick at times you could have cut it with a knife. Holy cannoli! These two were combustible together. I loved all the intense, sexy encounters between them and of course the bickering between them and even all their "silly" fights. So deliciously sexy and entertaining!
Once again, the supportive characters were well portrayed, interesting, engaging and I wouldn't mind to read their own stories in the upcoming books in the series. I really enjoyed the camaraderie between the girls in team USA gymnastics and the entertaining dialogue between them. It was fun watching them interact with each other, especially since they had different personalities. The epilogue was sweet and hopeful and I simply loved it!
All in all, 'Out of Bounds' was a wonderful contemporary sports romance and a great addition to the series. If you haven't read anything by this author, then you should definitely try this one, especially since it can be read as a standalone. However, I highly recommend reading the first installment since you don't want to miss another great romance at the Olympic Games.