One is a Promise
Tangled Lies Series #1
Fiction, Erotic Romance
June 6th 2017
One promise.
One forever.
One look and I knew Cole was mine. My dark rebel in leather. My powerhouse of passion, devastating smiles, and impulsiveness.
When his job sends him overseas, he promises to return to me.
A promise that's destroyed in the most irrevocable way.
Two years later, an arrogant suit invades my heartbroken loneliness.
Clean-cut and stern, Trace is everything Cole wasn't.
At first, he's a job that will rescue my dance company. But as he intrudes on my life, our hostile relationship evolves.
He knows I'm still in love with Cole, but his dedication is my undoing.
Then a catastrophic moment changes everything.
Promises resurface.
Lies entangle.
And an impossible choice shatters my world.
I love two men, and I can only have one.

Cue gif only review: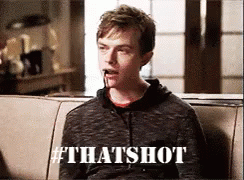 ---
Val's Review
Holy crap, I loved this book.
You know those reads where you are drawn in from page one and rendered completely unable to accomplish ANYTHING else in life except bathroom breaks until you get to page done?
This was one of those books for me.
And the craziest part?
This book had pretty much ALL the elements that, well…
…Make me break into a run in the other direction. And not just a run, but a hard sprint the intensity of which would result in pulled leg muscles if we were talking about a literal sprint instead of just a figurative one.
Dead ex? Check.
Quasi-love triangle? Check.
Cliffhanger ending? Check.
A heavy dose of mother effin' angst? Double check.
In fact, looking at that now I can't even believe I signed up for this ARC…
But, in Pam Godwin we trust, people.
And she definitely brought with this one.
Now I just have do wait for book two…