Not So Nice Guy
Fiction, Contemporary Romance
August 9th, 2018
Yes
"Oh my god. Who is that?"
I get asked this question a lot.
"Oh him?" I reply. "That's just Ian."
Just Ian is the biggest understatement of the century. Just the Mona Lisa. Just the Taj Mahal. Just Ian, with his boring ol' washboard abs and dime-a-dozen dimpled smile.
Just Ian is…just my best friend.
We're extremely close, stuck so deep inside a Jim-and-Pam-style friendzone everyone at work assumes we're a couple—that is until one day, word spreads through the teacher's lounge that he's single. Fair game. Suddenly, it's open season on Ian.
He should be reveling in all the newfound attention, but to our mutual surprise, the only attention he seems to want is mine.
He's turning our formerly innocent nightly chats into X-rated phone calls. Our playful banter sports a new, dangerous edge.
I want to assume he's playing a prank on me, just pushing my buttons like always—but when Ian lifts me onto the desk in my classroom and slides his hands up my skirt, he doesn't leave a lot of room for confusion.
I'm a little scared of things going south, of losing my best friend because I can't keep my hands to myself. So, I'm just going to back away and not return this earth-shattering kiss—oh who am I kidding?!
Goodbye Ian, ol' buddy, ol' pal!
Helloooo mister not so nice guy.
I have always devoured RS Grey's writing and her books. This book, holy shit, I LoVeD the crap out of it!! I think I had a permanent smile throughout it.
When a book makes you love so easily, when it makes you literally laugh out loud countless times, it's definitely a winner. And that's what this book did for me, made me love hard and gosh, did I laugh
It begins when best friends Ian & Samantha are both teachers at the same high school. They are so close in fact, the rest of the teacher crowd thinks they are dating. Ian & Sam are always together. Lunch together every day, hang out in the evenings, do seminars together, go to the gym together, yet never have they made a pass at each other. They have both hid their feelings from each other but both are vying for each other and it's becoming a breaking point not to do something about it. They both want each other, dream about doing naughty things to each other. So what's the problem? Why won't one of them atleast make a move? "Duh, you're my best friend and I won't lose that" and of course because…..
So when does your want overcome your fears? How do you let your guard down and the gates of protection you've had around your heart for years unlock?? When the man you've loved completely wins and your heart is laying on the ground from all the swooning you've done. Oh, and maybe because he's sexy as hell.
This book, to me, was perfection in almost every way. I loved it. It surprised me, it wasn't what I thought it would be at all, it was more. I enjoyed the hell out of it and of course I'm left with the biggest sappiest smile ever. Hands down recommend this one to all you romance lovers out there. Releasing August 9th, so make sure you pick this up!!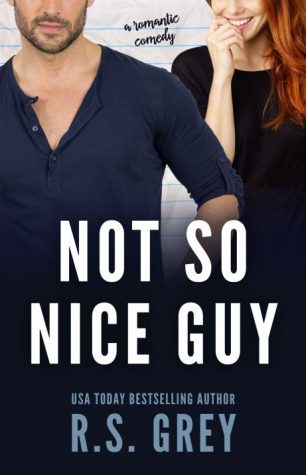 About the Author:
R.S. Grey is the USA Today bestselling author of thirteen novels, including THE FOXE & THE HOUND. She lives in Texas with her husband and two dogs, and can be found reading, binge-watching reality TV, or practicing yoga! Visit her at rsgrey.com
---
Stalk Her: