Man Candy
Fiction, Contemporary Romance, Romantic Comedy
MH Publishing
June 20th 2016

He's back.
Not just back in town, but living in the flat right beneath mine. And he looks good enough to eat, which is just one more reason to stay away from him.
But I can't resist.
The sex is incredible (pretty sure we've shaken the house right off its foundation), but he can't fool me—not this time. A degree in marketing and five years in advertising have taught me that "true love" is a fairy tale used to sell lipstick, diamonds, and perfume. It doesn't exist.
He thinks I'm wrong, and he wants to prove it.
I think he's crazy, so I dare him to try.
It might be the biggest mistake of my life.
ARIANNA's review
If you haven't read anything by this author, 'Man Candy' is the perfect book to start with. Melanie Harlow's newest release was the perfect blend of humor and steam and I had a blast reading it. I devoured it from start to finish and I honestly enjoyed it tremendously. While older brother's best friend trope in not my favorite one, I found this one to be a fantastic read. This fun and sexy little gem made me laugh, grin and smile like a lunatic.
"Sometimes being with someone from your past is like going home again. No matter how long it's been, you don't forget the way."
Ten years ago, Jaime declared her undying love to Quinn, her brother's best friend. She expected Quinn to reciprocate her feelings, of course, but Quinn not only rejected her, he also laughed in her face. This event devastated her, Jaime realizing "the harsh truth about love". When her brother informs her Quinn is back in town and he will live for at least a month in the flat below her, Jaime is not very excited. She still remembers how humiliated she felt years ago, so of course all she wants now is to avoid Quinn at all costs even if he still can get her hot and bothered without even trying.
"You can't trust people that good-looking. He's probably an alien or something. He's just here trying to charm women back to the mother ship to breed his ridiculously beautiful alien babies."
But Quinn has other ideas. He always had a thing for his best friend's sister and he always regretted that he rejected her the way he did, but he had his reasons. All he wants now is Jayme…in every way. He doesn't want just a hot one-night-stand, he wants to know her, the real Jaime since she matters to him more than she'll ever know. But there's a big little problem – Jaime is the biggest commitment-phobic…ever, but Quinn is willing to do anything to make Jaime realize that he wants her in every way and of course to make her realize how good they can be together.
"Jaime, there is no secret. There is no magic. There is no way to know what the future holds. The point is that you're willing to take a chance."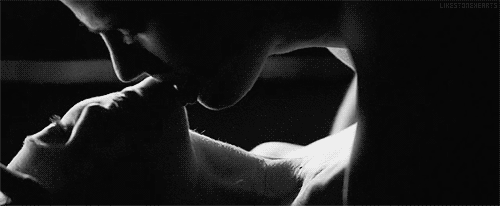 This one was without a doubt my favorite book by this author. I really enjoy her storytelling and her writing and like I mentioned above I devoured this delightful read from cover to cover. I couldn't put it down for one single minute. I love a book that has a little bit of everything and this one certainly did – sweet and sexy times, plenty of LOL moments and entertaining characters.
My favorite aspect here (besides the smart premise where the heroine is the biggest commitment-phobic ever, instead of the hero) was the banter between the two main characters. I already knew Mrs. Harlow knows pretty well how the write quirky, cleverly written dialogue, but this time she outdid herself. The banter here was fabulous and made me grin more than half of the book. Needless to say I had a fantastic time reading Jaime and Quinn's story. Jaime was an awesome heroine. I loved her from the beginning and I had such a great time being in her head. She was stubborn as a mule at times, but she was endearing until the end. I loved her sense of humor and how confident she was at times. She simply was my kind of heroine.
"I wanted him to have me in a way no one else ever had. I wanted to share myself in a way I never had."
Quinn, with his charm and sarcasm won me over from the beginning. Sweet and sexy, he was perfect for our Jaime. He was good with her, tolerating all her quirks, making her fell beautiful and sexy and showing her slowly that he's the perfect man for her. I love the sweet moments between them and of course all their sexy times, which were hot as hell.
All in all, 'Man Candy' was a very fun, refreshing entertaining read. If you are looking for a sweet and sexy read with some great banter and endearing characters don't hesitate to pick this one up.