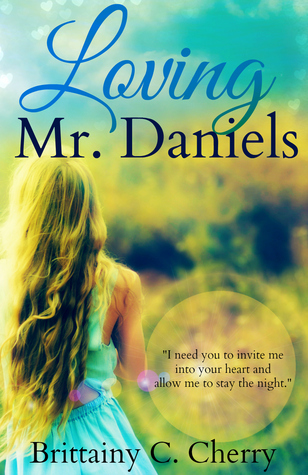 Loving Mr. Daniels
Fiction, New Adult
May 11, 2014
310

To Whom it May Concern,
It was easy to call us forbidden and harder to call us soulmates. Yet I believed we were both. Forbidden soulmates.
When I arrived to Edgewood, Wisconsin I didn't plan to find him. I didn't plan to stumble into Joe's bar and have Daniel's music stir up my emotions. I had no clue that his voice would make my hurts forget their own sorrow. I had no idea that my happiness would remember its own bliss.
When I started senior year at my new school, I wasn't prepared to call him Mr. Daniels, but sometimes life happens at the wrong time for all the right reasons.
Our love story wasn't only about the physical connection.
It was about family. It was about loss. It was about being alive. It was silly. It was painful. It was mourning. It was laughter.
It was ours.
And for those reasons alone, I would never apologize for Loving Mr. Daniels.
-Ashlyn Jennings
"I've never seen two people who loved each other so quietly."
➦This is a forbidden romance between a teacher and a student. The main characters meet before they realize they are a teacher/student and make a connection. Needless to say they are bummed out once this fact is revealed. And so they fight the temptation.
❤This novel is about loss and love. I loved that the mcs connected through their love of poetry. This novel kind of reminded me of Amy Harmon's Different Blue with the whole poetry quoting that was going on here. The book is romantic and even steamy at times.
✘If I were to point out one thing I didn't like it would be the tone of the book. It was very… well, gloomy. It also touched on a lot of sensitive subjects, like death, alcoholism, repressed homosexuality. There's whole lot of death in this book and I thought it was a bit of an overkill.
➦I recommend this book to those who enjoy forbidden romances, books with an emphasis on poetry and music.
➦Side note: this is my second book by Brittainy C. Cherry and, even though her first novel was a complete miss for me, I've enjoyed this one a lot. Her books do seem to be kind of on a heavy, depressing side. Looking forward to reading more in the future.