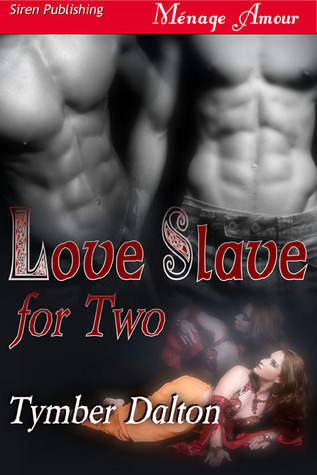 Love Slave for Two
Love Slave for Two #1
Fiction, Erotic Romance
November 1, 2008

LOVE SLAVE FOR TWO [Siren Menage Amour; Contemporary/ Menage a Trois Romance, M/M/F, M/M, M/F, monogamous polyamory]
Nevvie Barton has never truly felt loved or like she belonged anywhere, ever. Abandoned by her adopted family and trapped in an abusive relationship, she takes a job with Tyler Paulson and Thomas Kinsey as their cleaning girl.
Nevvie knows her fantasies about "the boys" will always be just that--the two handsome men are devoted, loving life-partners. Then Tyler and Thomas fall in love with Nevvie and hatch a secret plan to seduce her and make her their permanent third.
For the first time in her life, she feels attractive and wanted. When they ask her to move in and be their personal assistant, Nevvie jumps at the chance. Her planned escape doesn't go without a hitch, and the boys must rescue her from a brutal man who would rather kill her than let her go.
Can Tyler and Thomas heal Nevvie's wounded body and soul and prove to her that she really is their dream come true?
Save
Val's Review
3.5 Stars
Every once in a while, I enjoy a good M/F/M book, especially if they are done right.
It's fun to watch not just two, but three people discover their emotions and figure out how to navigate the treacherous threesome waters.
Okay, who am I kidding – I am here for the hot as fuck M/F/M sex scenes.
Judge not.
Before this, I had only read one other Tymber Dalton – The Reluctant Dom, which was also a M/F/M and totally blew me away.
That said, I went into this knowing it would be good.
Which it was.
However….
In this book, the female h, Nevvie, makes it pretty clear on several occasions that she has deeper feelings for one H (Tyler) than the other H (Thomas).
So in other words…
Seriously, several times throughout the book Nevvie says she has "deeper connection" to Tyler than Thomas and I just found this to be bothersome.
In my M/F/M books, I want everyone's love for everyone else to be equal. Otherwise I just feel like I'm reading a love triangle, even if no one is being forced to choose.
I didn't like how Thomas was treated a little bit like a third wheel is some aspects here, especially since I straight up liked him better.
And I didn't like the ending scenario.
It was just…messy.
Otherwise, this was still a really decent M/F/M book and I really like Tymber Dalton's writing style.
Save