Lies & Lullabies
Fiction, Dark Romance
July 28th 2016

On the weekends, she's Sugar, a woman free of the pretty prison constructed by her domineering father, who combs the dangerous streets in search of something she never quite finds. During the week, she's Simone, the good girl and the illegitimate daughter of the most powerful and hated man in Los Angeles.
Catch—aptly named for his "career" choice—is a man shrouded in mystery with one dangerous purpose. After a whirlwind encounter, Catch draws Simone into his dark and tangled web.
A dangerous game ensues, lives are lost, truths are exposed, and one man may shatter the foundation of a powerful organization on the brink of extinction.
The game of truth or dare won't end until Catch and Simone strip each other of their façades and uncover the reality of who they were, and who they are fated to become.
ARIANNA's review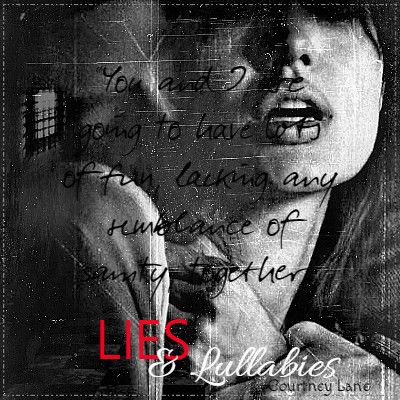 Courtney Lane always delivers engrossing dark and twisted reads that have the power to keep you at the edge of your seat, making your head spin with its twists and revelations. 'Lies & Lullabies', her newest standalone novel is a mystery suspense enthralling read filled with intrigue, danger and most of all secrets that will keep your interest from start to finish with a multitude of puzzles.
"Show me all your pretty, soft pink and gray past, Sugar and I'll let you into my world."
Simone Leone is the illegitimate daughter of a mob boss. Every aspect of her life is controlled by her utterly cruel and despicable father. Desperately craving some freedom, over the weekends Simone becomes Sugar a kickass underground fighter, this way escaping the life other wants for her. Her life changes irrevocably when she meets Catch, 'The Extractor', a mysterious stranger who one minute he seems to be Simone's friend and the next minute her enemy, a man who has secrets and a hidden agenda, a man who slowly draws Simone is his dark and tangled web.
"The devil was cloaked in beauty to entice the sinner, and he was birthed from a pool of the devil's temptations."
'Lies & Lullabies' was griping from beginning until the end. From the beginning I became absorbed in these two characters' story even if overall the story wasn't as dark and/or disturbing as I would have preferred to be. The story was fast paced and intriguing with an interesting, well layered plot that made Simone and Catch's story a fantastic blend of sex, revenge, lies and lullabies.
"The lies were safe and comfortable. The lies made your life go down a little easier. It made you wake up every morning with hope, thinking every minute and every day had the chance to be better."
Both main characters were fascinating and quite well developed, both of them being messed-up in a very thrilling way. I have to say I really liked how these both characters' backgrounds were developed. They were revealed in a way I found to be truly captivating. Simone was a great, strong heroine I even sympathize with at some point into the story. She is feisty and stubborn and I liked how she was a fighter both in the cage and the real world.
Catch was mysterious as much as he was confusing. In the beginning, or more exactly for a good part of the story you don't know what he is, friend or foe, you don't know what he really expects from Simone or what exactly is his hidden agenda. As the story progresses you can see many sides of his character. He can be manipulative, ruthless and controlling, sometimes in an enigmatic way, but he also can be sweet and also charming and irresistible.
I liked how the complicated relationship between these two characters progressed and how the sexual tension between Simone and Catch was done. The few sexy scenes between them were intense, erotic and really well written.
"Fucking me harder than a machine and pushing deeper, he touched places no man had ever been able to grasp. I'd never wanted someone so badly—to break me into a million pieces with one word, one thrust, and one look."
Overall, 'Lies & Lullabies' was a captivating, intricate, unpredicable read, a great mix of mystery, suspense and steam that will blow you away with some smart twists and turns.