King of Wall Street
Fiction, Contemporary Romance
Louise Bay
August 24th 2016

THE KING OF WALL STREET IS BROUGHT TO HIS KNEES BY AN AMBITIOUS BOMBSHELL.
I keep my two worlds separate.
At work, I'm King of Wall Street. The heaviest hitters in Manhattan come to me to make money. They do whatever I say because I'm always right. I'm shrewd. Exacting. Some say ruthless.
At home, I'm a single dad trying to keep his fourteen year old daughter a kid for as long as possible. If my daughter does what I say, somewhere there's a snowball surviving in hell. And nothing I say is ever right.
When Harper Jayne starts as a junior researcher at my firm, the barriers between my worlds begin to dissolve. She's the most infuriating woman I've ever worked with.
I don't like the way she bends over the photocopier—it makes my mouth water.
I hate the way she's so eager to do a good job—it makes my dick twitch.
And I can't stand the way she wears her hair up exposing her long neck. It makes me want to strip her naked, bend her over my desk and trail my tongue all over her body.
If my two worlds are going to collide, Harper Jayne will have to learn that I don't just rule the boardroom. I'm in charge of the bedroom, too.
ARIANNA's review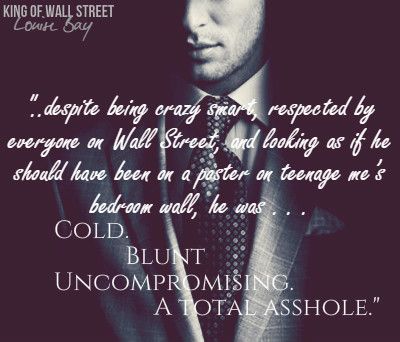 Having never read a Louise Bay book before, I wasn't sure what to expect when I started this, but after reading the blurb I was pretty excited to read "King" and Harper's story…mainly because I love a good office romance. Fun and sexy, fast paced and with an interesting plot, 'King of Wall Street' was a pretty engaging read.
"She was like a drug. Every hit I took of her made me want more".
Harper had been desperate to work for Max King 'The King of Wall Street' since before she enrolled at business school. She had moved to New York only with the thought to work for the enigmatic King. She now works as a junior researcher for her idol, but surprisingly her job is nothing like she dreamed. Her boss is smart and driven, but unfortunately he's a big a$$hole.
"I pitied any girl dumb enough to fuck Max King. Which, apparently, included me."
Max King is known to be ruthless when it comes to his business. He is challenging and demanding and the best in his line of work. At home he's a single dad who's trying to keep his fourteen years old daughter a kid for as long as possible. He also tries to keep his business separate from his private life, not looking for a long term relationship. Max had been irritated by Harper's presence from the moment he met her. As much as sometimes she pisses him off, he can't deny the fact that she's a smart, beautiful woman or that he's more attracted with her than he wants to be.
"This girl could end me. I'd suspected it the moment I saw her. Known it the moment I'd seen her work. Talented. Beautiful. Sharp. Sexy. I wanted it all."
The dynamic between Max and Harper changes when they find out they are neighbors. Soon Harper realized that Max is a king not only in the boardroom, but also in the bedroom.
I enjoyed this one! The storytelling was pretty great, so even if I didn't totally love this one, I'm looking forward to read more books by this author. Like I mentioned earlier, the plot was quite interesting. Both main characters were engaging and well portrayed and I have to say I was rooted for them from the very beginning.
Max was a great hero! He was enigmatic and commanding and yes, like I previously mentioned a little a$$hole in the beginning, but he never was mean or arrogant which I loved. He totally won me over as the story unfolded not only because he was sweet and caring with our heroine, but also because he has such a great, heartwarming relationship with his daughter. I loved their relationship. He was a great, sweet and loving father and his daughter was pretty awesome for a thirteen years old kid. I also liked Harper. She was smart and really great, both with Max and his daughter.
The story was pretty steamy which I loved and all the sexy scenes were hot as hell. I loved the two between the sheets and of course all the fantastic sexual tension as the story unfolded.
"You're beautiful. And sexy and—" I paused a second. I had to be careful I didn't come first. "And you drive me crazy at work." I thrust again. "Because I want to bend you over my desk and drive my cock into you. Just. Like. That."
Overall, this was a great read! If you are looking for a sexy office romance, told in dual POV and low in angst and drama, then this is the perfect read for you!