Kick, Push
Kick Push, #1
Fiction, New Adult
August 4th 2015

There's a single defining moment within every skater.
It lasts only a second. Two if you're good.
Three if you're really good.
It's the moment you're in the air, your board somewhere
beneath you, and nothing but wind surrounds you.
It's the feeling of being airborne.
The sixteen-year-old version of me would've said it was the
greatest feeling in the world.
Then at seventeen, I had my son.
And every single second became a defining moment. Even the ones that consisted of heartbreak when his mother left us.
Seventeen. Single. Dad.
That's what my life became.
Yet, every day, I managed to find that feeling of being
airborne.
Or at least I convinced myself I did.
But I lied—to myself and to everyone around me.
Until she showed up; Tanned skin, raven dark hair, and eyes the color of emeralds.
You know what sucks about being in the air?
Coming down from the high.
Sometimes you land on the board and nail the trick.
Then kick, push, and coast away.
Other times you fall.
You fall hard.
And those are the times when it's not as easy to get back up, dust off your pads and try again.
Especially when the girl with the emerald eyes becomes your drug...
And you become her poison.
ARIANNA's review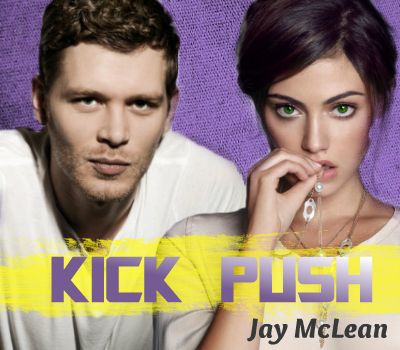 "Kick Push" was an emotional read about second chances, falling in love, parenting, fallowing your dreams and so much more. Like other books I have read from this author, this one had a little bit of everything – humor, angst, drama – and it made me feel, really feel. "Kick Push" fallows the story of Josh, character we previously met in "Where the Road Takes Me", another book by this author."We were sixteen and pregnant. And at the time—we were happy."
Josh's life change irrevocably when he finds out his girlfriend Natalie is pregnant. He is scared and alone since his family abandons him deciding they are not ready to become grandparents. Josh is not ready to become a father either, but he's willing to do anything for his new family. The baby Tommy is born and Natalie decides everything is too much for her and abandons Josh and Tommy. Josh has no one, he's desperate and lonely, but he loves the baby Tommy so much and he's determined to take care of him no matter what.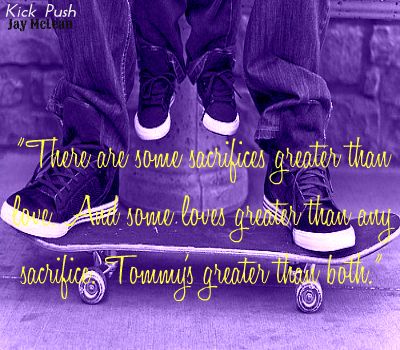 Josh meets Chazarae, an older woman who wants to help him and lets him stay at the garage apartment next to her house. Every day is a struggle for Josh. He doesn't have a job, but he never gives up on his son, he's willing to sacrifice anything for him. Years pass and Josh with some help from his friend Hunter and later from his uncle and aunt is able to make it work. Tommy is three years old now and their life is good. Josh has everything that matters – his son.
Everything changes not only for Josh, but also for Tommy when they met Becca, Chazarae's granddaughter. Becca is beautiful, scarred and has a tragic past. She can bear to be touched and speaking can be difficult for her. All three of them become friends. Becca is mesmerized with Tommy and slowly she falls in love not only with the little boy, but with his caring father as well.
"Do you have a safe place, Becca?"
"Yes, I whisper. You."
This was such a sweet, emotional story! First of all, I must say I absolutely loved Tommy. He stole the show for me. He was so darn cute, especially when he talked about moneys. Josh was a character I felt for from the beginning. He was so strong, kind and genuinely a good man. I loved his determination and his love for his son warmed my heart. I have a lot of respect for him for what he did for little Tommy. The relationship between Josh and Tommy warmed my heart. It was pure and simple beautiful and so adorable. Every scene I have read with these two put a big smile on my face. Needless to say I loved the relationship between father and son.
Becca was a character I liked, but unfortunately I can't say I loved her very much. I didn't connect with her like I was supposed to connect and I didn't agree with all the decisions she made at one time or another. However, my heart broke for her. She was more than damaged, but as the story progressed Josh and her feelings for this young single dad made her open up a little about her past and about what she really feels. Becca's relationship with Josh and Tommy was very sweet and I enjoyed their dynamic.
"I love that she didn't just want me. She wanted us. All three of us."
Josh changed Becca and Becca changed Josh as well. He made her feel save and wanted, loved, cherished and protective and I loved Josh even more for giving her what she wanted all her life.
Overall, a fantastic read and I'm looking forward to read the next installment/s in the series!