Into the Blue
Wild Aces, #2
Fiction, Contemporary Romance
Berkley
July 5th 2016

From the author of Fly with Me and the Capital Confessions Novels comes the newest in the sexy Wild Aces Romance series.
Eric Jansen—call sign Thor—loves nothing more than pushing his F-16 to the limit. Returning home to South Carolina after a tragic loss, he hopes to fix the mistake he made long ago, when he chose the Air Force over his fiancée.
Becca Madison isn't quick to welcome Thor back. She can't forget how he shattered her heart. But Thor won't give up once he's set his sights on what he wants—and he wants Becca.
Thor shows Becca that he's no longer the impulsive boy he used to be, and Becca finds herself irresistibly drawn to him. But will Thor be able to walk away from his dream of flying the F-16 for their love or does his heart belong to the sky?

show all books in this series
ARIANNA's review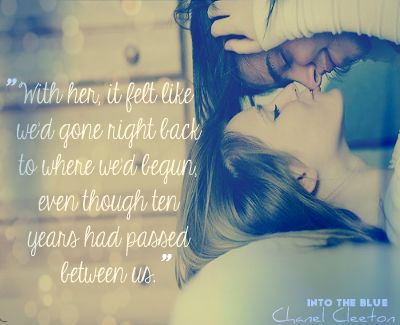 If you love military men and second chance romances, then this is the perfect book for you. Chanel Cleeton's second installment in her newest series was as good as the first one if not better. 'Into the Blue' was "the perfect" second chance romance – with no overwhelming angst and drama, endearing characters that will steal your heart from the beginning and a wonderful love story that will make you swoon.
"It seemed like my entire adult life had been spent either running from or to this one girl. She was the compass when I was so lost I couldn't find my way."
This second installment features Eric 'Thor' Jansen, character we met before in the previous book in the series. Eric is a fighter pilot who loves flying more than anything. After a tragic accident and loss, Eric needs a little space, he needs time to find himself again. Returning home to South Carolina, he starts to wonder if he made the right choice leaving the only woman he'd ever loved. Ten years ago, wanting to serve his country, to make a difference, he hurt and left Becca, the woman who still owns his heart.
"…every time I imagined myself having a future with someone, it was always Becca."
Becca never forget the man who broke her heart, the man she once upon a time thought he was 'the one'. Ten years have passed, but she's still hurting, she still loves the man who chose flying over her. Now, a successful deputy solicitor, Becca is shocked when she meets her former fiancée after all these years. Confused and angry, she only wants to shut him out, but as much as she wants to push Eric away and to forget everything they lived together, she just can't. She still remembers his smile, his laugh and the way he was with her in the past.
"How could someone feel like an old friend and a stranger at the same time? Was it my own wishful thinking imagining a connection that no longer existed, or was it possible that even with the time apart, there was still a piece of me that he held in the palm of his hand?"
Like I mentioned above I really enjoyed this one and for me it was better than the first installment in the series. I don't always enjoy second chance romance stories, but this one was truly delightful from beginning until the end. I enjoyed almost every aspect of this story, but I guess what I liked the most was the fact that the story wasn't high on angst and drama. Everything was balanced in a very great way.
"Have you ever looked back on a part of your life with regret? Like if you could have a do-over, would you take it?"
The relationship between the two main characters progressed slowly, but surely in a very believable way which I truly enjoyed. You can actually feel how much Eric and Becca still love each other after all these years. Their connection was palpable from the very first moment and their chemistry was off the chart most of the times. They were good for each other in every way and I have to say I loved them together. I was rooting for them from the beginning and reading their story really made me swoon and smile.
Both Eric and Becca were great characters for the most part and both of them were well developed as the story progressed. I liked Becca a lot and I really sympathize with her, but I have to say I liked Eric more. He fought for Becca from the moment he realized ten years ago did his biggest mistake leaving her. All his attempts to win her over were heartwarming and made me smile and I was really glad when Becca finally realized he loves her as much as she loves him. Eric was sweet and patient and such a swoon-worthy hero until the end.
"He kissed me like he was dying for my lips, my mouth, my tongue. Like the same madness that coursed through my veins was inside of him, too, pushing to get out."
Their sexy times were always so intense. Sweet or hot as hell, I enjoyed every single one of them and I honestly couldn't get enough of these two together. The cast of supporting characters was once again fantastic and I have to admit I'm dying to read the next installment – Easy and Dani's story.
Overall, a wonderful second chance romance!