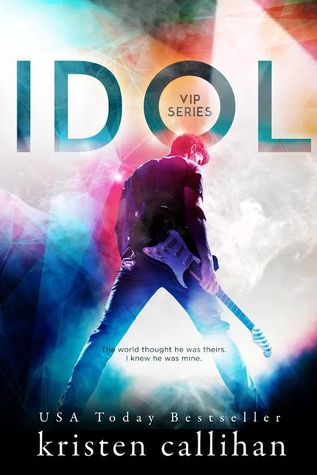 Idol
VIP #1
Fiction, Contemporary Romance
June 7, 2016
307

Libby
I found Killian drunk and sprawled out on my lawn like some lost prince. With the face of a god and the arrogance to match, the pest won't leave. Sexy, charming, and just a little bit dirty, he's slowly wearing me down, making me crave more.
He could be mine if I dare to claim him. Problem is, the world thinks he's theirs. How do you keep an idol when everyone is intent on taking him away?
Killian
As lead singer for the biggest rock band in the world, I lived a life of dreams. It all fell apart with one fateful decision. Now everything is in shambles.
Until Liberty. She's grouchy, a recluse—and kind of cute. Scratch that. When I get my hands on her, she is scorching hot and more addictive than all the fans who've screamed my name.
The world is clamoring for me to get back on stage, but I'm not willing to leave her. I've got to find a way to coax the hermit from her shell and keep her with me. Because, with Libby, everything has changed. Everything.
"You tell me you dreamed of this life… Let me show you. Let me give you the world, baby doll"
➦This rock star romance certainly had everything to make it enjoyable – the funny way in which the main characters meet, the incredibly sweet way they connect through music, the steamy sex scenes, and the fascinating descriptions of on stage performances.
➦Liberty, the heroine, is an extremely talented musician who is hiding away on a farm after losing both of her parents. Killian is a lead guitarist and singer in a world known rock band. He is on a year break from playing and composing due to a traumatic event.
➦Music helps these two connect and become friends. Will Killian help Libby come out of her shell? Will Libby inspire Killian to keep performing and making music?
❤I loved the beginning of the book and the way these two connected. The sexual tension and pull between these two was high, which made for very steamy sexy times. I also quite enjoyed the music aspect to the book, it was very well done and I couldn't help but feel excited about "being on stage." The ending was pretty satisfying.
✘I will admit this novel has generated ONE eye roll from me lol It wasn't really because of the drama, it just got a bit repetitive with the monologues from both mcs. It's like… I GET IT. Moving on… Sounded something like this: (this is just my own made-up jibber jabber)
K: "There's just one piece of cake left on the tray… I wonder if I should eat it or not."
L: "I should really let him have the last piece, what if he wants it? I don't want to be selfish!"
K: "I really really want that last piece of cake but I'm going to let her decide."
L: "If he really wanted to have this cake he would tell me, right? I need him to FIGHT for this god damn cake!"

❤Anyways… Recommended to anyone who loves rock star romances, novels with a bit of humor and whole lot of steam 🙂
➦On a side note, ladies… Read this quote please:
"We come together, Killian filling my mouth, me riding his thigh with shameless abandon."
Am I missing something? LOL! How DO you hump a thigh and suck a d*** at the same time? 😡

[maxbutton id="13″ text="Also Read Nancy's Review" url="https://steamyreads.net/idol-by-kristen-callihan-nancy/"]