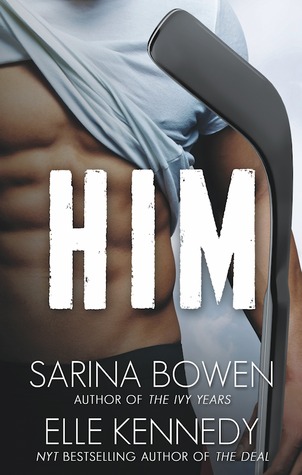 Him
Him Duet #1
Fiction, M/M Romance
July 28th 2015
Yes

They don't play for the same team. Or do they?
Jamie Canning has never been able to figure out how he lost his closest friend. Four years ago, his tattooed, wise-cracking, rule-breaking roommate cut him off without an explanation. So what if things got a little weird on the last night of hockey camp the summer they were eighteen? It was just a little drunken foolishness. Nobody died.
Ryan Wesley's biggest regret is coaxing his very straight friend into a bet that pushed the boundaries of their relationship. Now, with their college teams set to face off at the national championship, he'll finally get a chance to apologize. But all it takes is one look at his longtime crush, and the ache is stronger than ever.
Jamie has waited a long time for answers, but walks away with only more questions—can one night of sex ruin a friendship? If not, how about six more weeks of it? When Wesley turns up to coach alongside Jamie for one more hot summer at camp, Jamie has a few things to discover about his old friend...and a big one to learn about himself.
Warning: contains sexual situations, skinnydipping, shenanigans in an SUV and proof that coming out to your family on social media is a dicey proposition.

show all books in this series
RE-READ 11/10/2016 ! Audio version.


➦I always suggest this book to those who haven't read any M/M before but I've never even bothered to write a review for this awesome book.

➦I'll be honest, a year ago I was very apprehensive to try M/M myself. But Only 10% into this story I knew I could never go back. When it's done well, like in this book here, it can be oh so thoroughly enjoyable.

➦So I thought a re-read was in order and I'm very pleased to report that the book was just as great for me the second time around. Oh, and the audio version is pretteh steamy.

➦Jamie and Wes… Two teenage hockey players at a hockey camp. One shootout challenge. Prize = blowjob. FUNNY? May be just for one of them. Because for Wes it's not funny at all – it's something he wants desperately because the feelings he harbors for his best friend are very real.
➦But is tricking his best friend into getting blown something that can ruin the friendship? Well, the answer is yes, and it's not really a spoiler because the book picks up years later when the two meet yet again.
➦Both are in college and play for hockey teams and are about to go pro. Will they be able to get their friendship repaired? Oh, just freakin' read the book, would ya? 😀
➦If you have never read any M/M this would be the book to test the waters. It is super hot but incredibly sweet at the same time. Don't worry if you aren't into sport romances – the book doesn't concentrate all that much on the actual playing of hockey. The character development is great and you will fall in love with both Wes and Jamie.