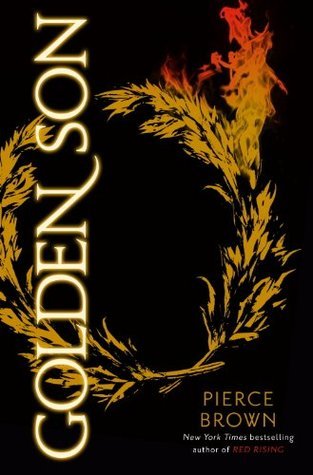 Golden Son
Red Rising Series #2
Fiction, Young Adult, Sci-Fi
January 6th 2015
With shades of The Hunger Games, Ender's Game, and Game of Thrones, debut author Pierce Brown's genre-defying epic Red Rising hit the ground running and wasted no time becoming a sensation.
Golden Son continues the stunning saga of Darrow, a rebel forged by tragedy, battling to lead his oppressed people to freedom from the overlords of a brutal elitist future built on lies. Now fully embedded among the Gold ruling class, Darrow continues his work to bring down Society from within.
A life-or-death tale of vengeance with an unforgettable hero at its heart, Golden Son guarantees Pierce Brown's continuing status as one of fiction's most exciting new voices.
➦This book took me almost a month to get through. I tried reading it first but I just couldn't get into it so I switched to an audio book and that made it considerably better.
➦I have multiple problems with this, and I'm sure it's just me…
✓Too much politics & talking
✓Too many names to remember, half the time I was struggling to remember who one or the other person was
✓Too much up and down for the hero
➦Seriously, this Darrow guy… he's either badass and you're yelling "YEAH, DARROW, YOU'RE THE SHIT!" but then a minute later he gets knocked down on his ass and you're like


It was good while it lasted!
➦But these ups and down keep happening so many times that you lose count and it just becomes annoying. I just want it to end… I'm not sure if I want to suffer through another 500 pages to find out how it plays out.
I'm ending my journey here because I just don't think it's my cuppa tea anymore.