Get Lucky
Fiction, Contemporary Romance
Lila Monroe Books
May 26th 2016

What happens when you wake up in a hotel suite next to a gorgeous naked man with absolutely no memory of the past twelve hours?
I guess it's true what they say. What happens in Vegas stays in Vegas.
Or at least I hope it stays here. The Romantic Style convention was meant to be a weekend of raucous fun with friends, sun, and enough poolside margaritas to forget about my ex. But now, instead of meeting my fans and signing books, I'm stuck with cocky divorce lawyer Nate Wexler. He's arrogant, infuriating, and I can't keep my hands off of him. Judging by the state of our hotel room, last night was wild. I just wish I could remember it.
A pair of matching tattoos. A cheap wedding veil. A half empty box of glow in the dark condoms.
What the hell just happened?
ARIANNA's review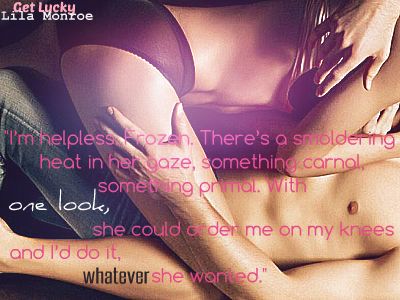 Having never read a Lila Monroe book before I wasn't sure what to expect when I started this one. The blurb with a fascinating setting like Vegas and of course the sexy as sin cover made me try this one out and honest to God I didn't regret it for one moment. Why? Because 'Get Lucky' was one hell of an entertaining read! This little gem was hilarious, sexy and also sweet at times, so if you are looking for a light, delightful read, look no further. I guarantee you will get hooked from the very first chapter."There's something about Julia that gets me horny and makes me relax all at once.
I think this is what bliss feels like."
Julia is a newly divorced romance writer. She loves what she does for a living, she's successful and she's in Vegas for a book signing. She loves her fans, so of course she's looking forward to a weekend in Sin City, especially since she will spend some quality time with her agent Meredith and with her best friend Shanna. Julia's weekend becomes a little crazy when she literary runs into a male stranger.
"If Mr. Darcy was a modern man with a rolling suitcase, a stick shoved way up his ass, and no actual redeemable qualities, he might be this guy."
Nate is a divorce attorney and he's in Vegas for his best friend's wedding. Right now he really isn't in the mood for a wedding or for Vegas, but for two days he will have to suck it up. Six months ago his girlfriend left him for another man with whom she found everything she was looking for according to her, so of course Nate is angry and bitter. Needless to say he doesn't believe in romance anymore.
Julia and Nate dislike each other from the moment they met. They figure out pretty quickly they are opposites in every way so they try to stay away from each other. Everything changes between them when they wake up naked together. The funny thing is neither of them remembers what happened the night before.
"Don't let your dick lead you around, Wexler. So far this girl hasn't brought you anything but migraines and a possible criminal record."
As they spend the weekend together trying to figure out what the heck happened between them and they get to know each other better both of them realize the other is not so bad as they initially thought and before they know it the sexual tension between them becomes slowly but surely so very tick.

'Get Lucky' was gripping from the start, highly enjoyable and made me smile and laugh almost the entire time. Told in dual POV, Julia and Nate's story is told both in the past and present. I can't say I'm a big fan of this kind of storytelling, but here it worked. It definitely made the story more addictive. The story was fast paced and Mrs. Monroe's storytelling was really engaging.
While the story is not very long, the characters' backgrounds were well developed, which I really liked. Julia and Nate's portrayals were really great and I found these two characters to be endearing and so much fun from the beginning. Sure, Nate was arrogant and rude, but I didn't dislike him for one moment, so if you like your hero to be a little jerk, you will like him just fine. As the story progressed he was sweet, charming and attentive, so he really won me over. Julia was a very endearing character. I loved how full of life she was and of course her smart mouth. She was genuine, she had a fantastic personality, she had no filter and I had no problem connecting with her. Like at all! She was pure and simply fun and the perfect match for our hero.
The chemistry between these two was off the charts and all the sexy scenes between them were really hot and passionate. I loved how the steam aspect was done!
Overall, a fantastic read filled with humor and steam that will make you smile, laugh and fell in love with these two main characters!
"Everyone goes to Vegas hoping they'll get lucky. More often than not, they go home disappointed. Sometimes, though, just sometimes, you get lucky beyond your wildest dreams.
What happens then? You go all in."