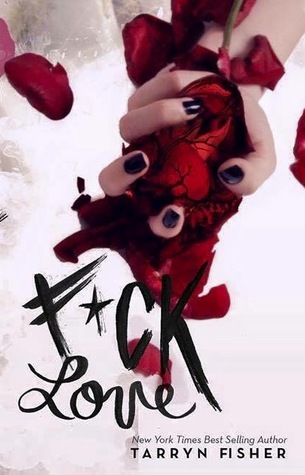 F*ck Love
Fiction, New Adult
December 31st 2015

Helena Conway has fallen in love.
Unwillingly. Unwittingly.
But not unprovoked.
Kit Isley is everything she's not—unstructured, untethered,
and not even a little bit careful.
It could all be so beautiful … if he wasn't dating her best friend.
Helena must defy her heart, do the right thing, and think of others.
Until she doesn't.
ARIANNA's Review
"F*ck Love" was a such a great and unique book for me. ( It's been two days since I finished reading this book and I'm still thinking about it!!) It was an interesting, addictive read from the very first chapter, equally heartbreaking and heartwarming and I couldn't put it down. It was a book about life, love destiny, finding yourself and so much more. It was one of the most interesting books I have read in a while, complex, though-provoking and captivating from until the end.
"We think we can control our lives, but our lives control us. And everything that touches our lives controls us. People have less power than they think they do. It's just the reactions we control."
First and foremost I have to say I loved the concept of this book and the plot has to be one of the most interesting I have read in a while. The story is told in such a way you definitely will be hooked from the beginning. That being said, I'm not going to talk further about the plot because everyone should experience this book without reading to many spoiler-ish reviews.
"I don't want to be someone's 'girl who got away.' I want to be someone's 'girl who'd I'd never let get away."
This story is about Helena, a young woman who has a dream who will change not only her life, but who she is as well. Helena's journey to discover who she is and what she really wants was inspiring, really well done and it really made me feel. It made me smile and laugh, but it also frustrated me and made me angry at times. It was a story that made me think and also made me hopeful.
"No one tells you that it hurts this much to be a grown-up. That people are so complicated they end up hurting each other to self preserve."
Our heroine, Helena was one of the most relatable characters I have met. She was so well, developed and has so much depth. I connected with her in so many ways and maybe that's why she was such a colorful character to me. She was a very fun character to read about. She's strong, a little bit odd and I enjoyed deeply her personality.
I enjoyed the pace of the story. In my opinion it was perfect and I loved the refreshing and entertaining writing.
All in all, "F*ck Love" was more than a story about love. It was refreshing from the start, with a little bit of everything, a story that will keep you at the edge of your sweet with all the angsty moments, but also with all the sweet and powerful scenes. It's a story that will stay with me for a while, a story that I highly recommend!
"Contrast is important in life. We understand what light is because we can compare it with what we know is dark. Sweet is made sweeter after we eat something bitter. It's the very same with sadness. And it's important to experience sadness, to embrace it in order to truly know happiness.