Even the Score
Fiction, Contemporary Romance
Montlake Romance
September 6, 2016

Single dad Andy Shaw loves his job as a sports agent, with one exception: it doesn't leave him much time for his kids. No parent likes being sidelined, so Andy decides to hire someone to share the workload. But when one of the hottest agents in the industry applies, Andy knows that this deal is definitely trouble.
Danicka Douglas works her butt off, but being an attractive woman in a testosterone-heavy industry isn't exactly a cakewalk. She guards her professional reputation fiercely, which means no crushing on her gorgeous boss. But the more they ignore that sexy little spark, the more it sizzles…
Just when it looks like romance might be in the game plan, Dani is threatened by a stalker with dark intentions. To keep her safe, Andy must cross the line between professional and very personal…because this time, he's playing for keeps.
ARIANNA's review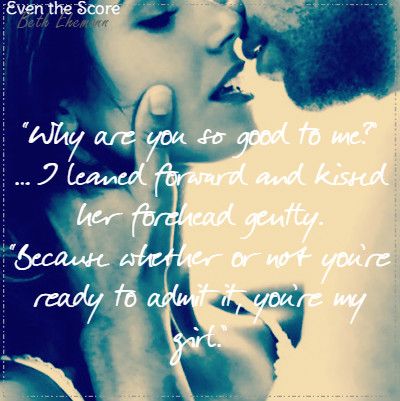 Beth Ehemann delivered a cute little gem with just a little bit of suspense and drama that I'm sure will appeal to readers who are looking for a sports romance/office romance. Apparently this author's newest release is a spin off from her "Cranberry Inn" series but of course it can be read as a standalone. While this was just an okay read for me I have to say I quite enjoyed the author's writing, so maybe I will read one of her upcoming books in the future.
Andy Shaw worked hard over the years to be one of the best sports agents. He's running his own company, he is successful, he loves his job and the number of clients recently increased. Needless to say he's more than happy his business is doing so great. Andy is the single father of two small children trying very hard to mix his work time with family time. His two kids would love to have his father more at home and Andy is ready to do exactly that by bringing on a partner. Danicka Douglas is the only woman who applies for the position. She is successful, confident and she worked hard to make a name of herself. She needs a fresh start, so she's really looking forward to work for Andy is he decides to hire her. Since Danicka's resume is the best, Andy decides to hire her. He already knew how good looking Danicka is, but he never expected to be so attracted to her. Spending more and more time together the attraction between them grows and grows but both of them are reluctant to get involved in a new relationship for different reasons.
I really wanted to like this one more than I did, but unfortunately it was just an okay for me. I liked the premise because I'm a sucker for office romances so I was really looking forward to read Andy and Danicka's story. In my honest opinion this aspect of the story was just meh. Maybe because I was expected the story to be sexier. Or maybe because the two main characters interacted professionally for too long for my liking. I really don't know…so, sadly the slow burn relationship between them didn't quite work for me. Also, I would have wanted the chemistry between them to be done a little better. I'm not saying I didn't feel any, but I wanted…more. However, I appreciated the fact that wasn't any insta-love/lust between them.
Overall, I liked the two main characters. Both of them were endearing and well developed. I really liked Andy. He was a great human being, a great father to his two children and also a great boss. He was sweet, caring and thoughtful with Danicka as the story progressed and really wonderful with the kids. Danicka was great too. I liked her portrayal. She was smart, strong, independent, but also very stubborn at times. Overall, she was a great heroine.
The suspense aspect of the story was pretty lame. I figured out early as the story progressed who is the stalker. So don't expect too much when it comes to this aspect. Just lower your expectations an you'll enjoy it more I guess. Also, the story was very predictable. So to be honest nothing really wowed me and everything was kind of forgettable.
Overall, just an okay read for me!