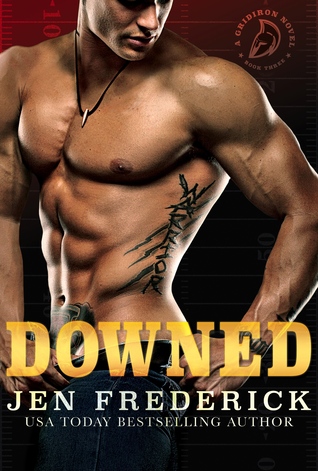 Downed
Gridiron Series #3
Fiction, New Adult, Sports Romance
December 1st 2016

He's the guy no one likes…
Despite winning two national championships, JR "Ace" Anderson was sent packing from his old school after losing the trust of his coach. At Southern U, he has a second chance to prove that his college legacy isn't endless debauchery and selfishness. But his reputation precedes him, and his teammates offer a chilly welcome in the locker room. The one person who is willing to accept him is the very woman he should stay away from—his new coach's daughter.
She's the girl everyone loves…
Bryant Johnson's only goal in life is to make others happy, even at her own expense. One look at her father's new star quarterback, and she knows that Ace is her next project. With a reputation for being a "jerk whisperer", Bryant has spent her last three years at college reforming sorry behavior and turning bad boys into the best boyfriends ever. In Ace, though, she's met with surly resistance and a sizzling attraction she doesn't expect. Fixing this wounded warrior will be her biggest challenge yet. Not falling for him will be even harder.
Between her big heart and his damaged one, a battle is ensuing. In this game of love, every defense will crumble.
➦This was a very sweet sports romance, a third in the Gridiron series and can totally be read as a standalone. It is my favorite out of the three. I really enjoyed the characters and the sports aspect was done nicely – team spirit and all that jazz. :D➦Ace is a quarterback who gets transferred to a new college team. A fresh start, right? Wrong. His past certainly follows him and he has trouble bonding with his new team because of it. His teammates don't trust him and while Ace certainly plays an A game on the field he wishes to actually be friends with the guys.
➦Lady luck is on Ace's side though because Bryant, the daughter of the football coach, picks him to be one of her "projects." She reforms asshole college guys into gentlemen and then promptly dumps them onto one of her sorority sisters. Pretty healthy behavior, no? As you can tell, Bryant isn't without issues of her own. Will Bryant be able to "fix" Ace?


➦Well, you know, I luuuurve me a pretend boyfriend/girlfriend trope. Although I suppose this wasn't really your usual pretend girlfriend trope since only one person was pretending. Or at least she was trying really hard to. lol
➦I didn't expect to love this book as much as I did given the fact that mcs start getting jiggy with it practically on page one. But I have to say that the story from then on focused more on the emotional aspect of their relationship and I loved reading about the transformation both characters made.
➦I would definitely recommend this to anyone who loves sports romances about football with reformed heroes and sweet/affectionate heroines.