Desperately Seeking Epic
Fiction, Contemporary Romance
March 23rd 2016

Paul James loved Clara Bateman.
Hating her would have been easier.
She was the past, and he was hell-bent on keeping her there.
Or so he thought...
Craigslist Ad: DESPERATELY SEEKING EPIC
You're my father.
I don't know much about you. I know your name is Paul James, you're a thrill seeker, and once upon a time you did stunts and people called you 'Epic.'
I've been told you don't know about me. That it's complicated.
But for me it's simple.
Here's the thing: I'm twelve years old…and I'm dying.
And as much as this could crush my mother, I have to meet you before I go.
In time, I'm sure she'll understand. She's still in love with you.
So, Epic, if you read this, please come back. You don't have to be my dad. You don't even have to tell me you love me or you're sorry. Just come see me.
Patiently waiting, but running out of time,
Neena
ARIANNA's review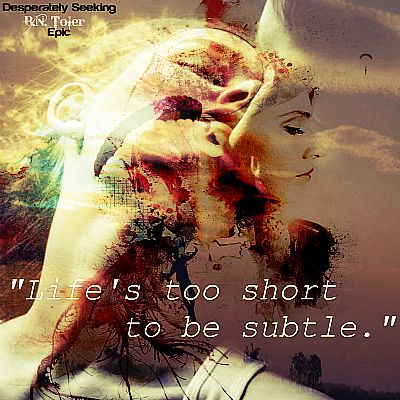 This was such a heartbreakingly beautiful story! B.N. Toler delivered a story about life, love, death, friendship and strength that really touched my heart. This story will move you to tears, it will make you smile, it will simply make you feel. It was equally heartbreaking and heartwarming from the beginning and it gripped me from the first chapter. Neena, Clara and Paul's story is fantastically written and I guarantee will steal your heart from the very beginning.
"You don't even have to tell me you love me or you're sorry. Just come see me. Patiently waiting, but running out of time, Neena."
'Desperately Seeking Epic' tells the story of Neena, a twelve years old girl who's dying. Neena has leukemia and she desperately wants to meet her father. She puts an add on Craiglist hoping she gets the chance to meet him before she dies.
"How do I say good-bye to her? How does a mother sum up in words the depth of her love for her child?"
Clara, Neena's mother is desperate. She wants, needs for her little girl to live. She will fight along her, she would do anything for Neena to be healthy, even contact the man who more than a decade ago broke her heart, Paul, Neena's father. She needs for him to be tested because there's a chance for him to be a bone marrow match and all she wants is to save her child. Clara knows Neena wants to meet her father, she knows deep down she would want him close, so she eventually contacts him.
"I don't do babies and white picket fences."
Paul left his business, his friends and also Clara thirteen years ago without looking back. Back then she loved Clara, but he believed adventure and freedom are more important than settling down with her. He was a self-absorbed man, a player, a coward and still is until Clara contacts him and finds out about Neena and her illness. Paul slowly becomes another man from the moment he meets Neena. She steals his heart with her beauty, purity and strength and in a very short amount of time falls in love with her as much as much as he falls for Clara.
"I'd gladly take her place, take on her cancer, and keep it for myself if I could. I've lived. Now should be her turn."
Neena wants only one thing before she dies – to find out how her parents met, so she convinces them to give their story to a teenage writer, Ashley. Both Clara and Paul are determined to spend as much time as they can with their daughter, trying to make every single day as happy as possible for her. They get to know each other again, to lean on one another, to realize they still have each other and they still love each other after all this time.
"They are everything. And that's what I tell them when I whisper,
'Everything that matters is right here in my arms.' "
These characters' story broke my heart. I loved how the story was told both in the past and present from the two main characters' perspective. Mrs. Toler's storytelling was fantastic as always and the story line intriguing to say the least even if I knew how everything will unfold almost from the beginning.
Like I mentioned above this story will make you feel. Reading these characters' story was hard at times. I felt for every single one of them. They made me smile, they made me cry and they also angered me or frustrated me at some point into the story. Every single one of them was well developed and was realistically portrayed. I loved Neena. My heart broke for this little girl. Broke! I wanted so much for her to be okay, to find some miraculous cure and be a happy healthy kid. At times reading her interactions with both Clara and Paul were really moving, bringing tears to my eyes. I admired this girl so damn much. Her strength was admirable and I have to say I loved her relationship with Clara and also with Paul as the story progressed.
Clara was a great heroine and I loved her from the beginning. The way she loved her daughter was really heartwarming. She was feisty, she was a fighter and she was strong as much as someone can be in her situation. I felt her love for Neena and how desperately wanted to save her and also her love for the man who always be 'the man' for her. Paul won me over when he came in his daughter's life. The chapters from the past presents a man who is…well, a douchebag and maybe you will dislike him a little, but as the story unfolds we get to see how much something or in this case someone can change who you are. I loved the way he was with both Clara and Neena. He was everything these two needed and I loved him for that. The author really made me feel his love for both of them.
Overall, this was another great, emotional read by Mrs. Toler and I'm looking forward to read more of her work!