Crossroads
Crossroads Series #1
Fiction, M/M Romance
Riley Hart
July 28th 2015

After divorcing the woman he'd been with since he was seventeen, Nick Fuller is starting over. He owns the restaurant of his dreams and he's determined to meet new people, find new passions, and experience life to its fullest. Easier said than done—that is until he meets his new neighbor, Bryce Tanner…
Bryce is all about a good time. He plans to show Nick how it's done, help him meet a few women, and enjoy the gift of the single life he's been given. But things don't go as planned, and soon they realize they'd rather be together than with anyone else.
Neither man has ever wanted another guy, but there's a connection between them from the start—a spark they can't deny. They find themselves navigating an unfamiliar new world and dealing with unforeseen obstacles. Physical desire isn't enough, and now Nick and Bryce are at a crossroads. They have to decide which way to go: the easy path they've always followed, or the one that's determined to trip them up at every turn.
Save
ARIANNA's review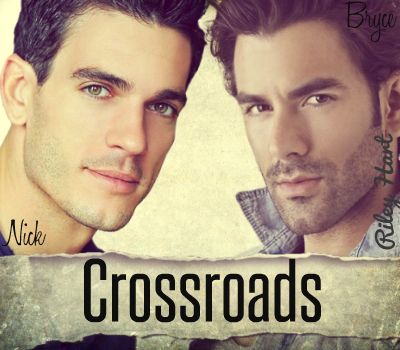 "They were at a crossroads, not the first one they'd hit, and he sure as shit knew it wouldn't be the last."
This one was for sure Riley Hart's best work to date. She delivered such an entertaining friends to lovers, double GFY m/m story filled with steam and humor. I can't remember the last time I read a double GFY m/m novel, but I will tell you this, this one was scorching hot and dare I say, arousing.
The story starts off with Nick, who after his divorce he moves into a new place. He is a chef owning his own restaurant and he worked hard to get where he is now. He is frustrated and maybe a little hurt with his new status as a divorce man after he found out his ex-wife had multiple affairs and especially since she was the only woman in his life since they were 17 years old. His family is supportive, his mother already trying to set him up with different women, but Nick doesn't want to get involved in a relationship with a woman, he wants something easy and convenient and he's looking forward to this new fresh start.
Bryce Tanner is a mechanic, also buying old bikes, fixing them up and reselling them. He truly loves what he does for a living. He feels free only when he rides and maybe when he f@cks, because he loves all the ladies. Bryce doesn't looking to settle down anytime soon, like his older brothers loving way too much his lifestyle.
"It's like you filled this place in my world that I didn't know needed to be filled. Hell, I didn't even know it was there before you came and claimed it. Wanting you is the only thing I'm sure of. I don't know how it happened or why, but I know it's there."
When Nick meets his new neighbor, Bryce, he immediately warms up to him even if he's not that kind of guy. He's feels that Bryce is his first real friend and he feels comfortable with him from the start and Bryce apparently feels the same way. From the moment he met his new neighbor, Bryce is determined to show him what he knows the best – how to get loose and not give a sh*t about things. They start an easy, genuine friendship and both of them are very comfortable with the other. They go out together, spending a lot of time together and before they know it, they start to feel something more about each other – an attraction both of them can't resist!
"I'm scared of what this means. I'm scared of the changes in my life. I'm scared because I'm not sure how my family will react…but none of that is enough for me to want to walk away from him. The thought is unimaginable. It doesn't matter if I understand any of it."
I really enjoyed this one! The pace of the story was perfect and both main characters were very enjoyable, had depth and the most important thing IMO in a GFY (or in this case double GFY) story, their backgrounds were well explained and their struggles and obstacles they faced were very realistic. I liked these two men a lot and I also liked the fact their personalities were so different. Their character development was really great done and I'm not sure which one I loved more. Nick was the serious type, the workaholic type. He's kind and loyal and I loved the fact that he was so determined to respect his morals. Bryce was this guy you would love to have as a friend. He's funny, charming, loving, sweet, he has no filter and he was a great friend not only to Nick, but also to his old friend/ex hook-up-girlfriend Christi. I enjoyed reading about Nick and Bryce's friendship and Bryce's attempts to 'make' Nick more like him. But here's the thing – Bryce liked the real Nick. Nick who was 'a little different, a bit tight-assed in some ways, but not in others' and this made me liked him even more. He kept Nick on his toes from the beginning and also from the beginning he made him laugh more than he laughed in all these years spent with his ex.
"This wasn't just about the fun anymore—wasn't about orgasms and hiding out in their houses together naked. It was all real, and they had to decide how far they were willing to go for each other…what they really wanted."
I liked how Nick and Bryce's relationship progressed. It simply felt real. It wasn't an easy journey from friends to lovers for either of them, but together they succeeded. With love, caring and most important patience and communication they learnt together what it really means to be in a relationship and what it really means to give the other everything you got and everything you are.
"He shoved at Bryce, rolling him over, and climbed on top of him. Their pricks rubbed together as their tongues invaded each other's mouths. It was like a war, both of them fighting for possession as they grabbed at each other while their mouths dueled. It was rough, urgent, passionate and everything else he could imagine as his cock begged to shoot the load in his balls."
Like I mentioned above, this story was equally emotional and steamy. I would lie if I would say I didn't preferred more the steamy aspect of the story. Nick and Bryce's tale was touching and beautifully written, but I have to admit these sexy scenes between them made me love this story even more. These two men complemented each other fantastically, so of course their times between the sheets were hot as hell. They were intense, passionate and satisfying. I loved how both of them were determined to make their relationship work and how both of them decided to experiment with the other everything there is to experiment, without shame or embarrassment. That's how much they trusted each other.
"You're the only risk I've ever taken, Nick. Nothing else could hurt me expect you."
I have to say some of the supportive characters were truly delightful. Christi was one of them. She was such a good, supportive friend to Bryce and later also to Nick. She was lovely and I enjoyed her character a lot. Bryce and Nick's families were pretty great as well, even if there were some obstacles with a few of them. However there was no unnecessary angst or drama, which made the story feel more real in some way.
All in all, "Crossroads was a fantastic great friends to lovers story that put a smile on my face, warmed my heart and made me fell for these two endearing characters.
"What are we doing here, Bryce?" They were two straight guys, each screwing around with a man for the first time, when there were so many things standing in their way. They were a fucked up accident waiting to happen.
"I don't know." Bryce's hand was in his hair then. "I just know that I can't imagine not doing it."
Save