Cream of the Crop
Hudson Valley, #2
Fiction, Contemporary Romance, Romantic Comedy
July 12, 2016

Manhattan's It Girl, Natalie Grayson, has it all: she's a hot exec at a leading advertising firm, known industry-wide for her challenging and edgy campaigns. She's got a large circle of friends, a family that loves her dearly, and her dance card is always full with handsome eligible bachelors. What else could a modern gal-about-town wish for? The answer, of course, is...cheese.
Natalie's favorite part of each week is spending Saturday morning at the Union Square Farmer's Market, where she indulges her love of all things triple cream. Her favorite booth also indulges her love of all things handsome. Oscar Mendoza, owner of the Bailey Falls Creamery and purveyor of the finest artisanal cheeses the Hudson Valley has to offer, is tall, dark, mysterious, and a bit oblivious. Or so she thinks. But that doesn't stop Natalie from fantasizing about the size of his, ahem, milk can.
Romance is churning, passion is burning, and something incredible is rising to the top. Could it be...love?
ARIANNA's review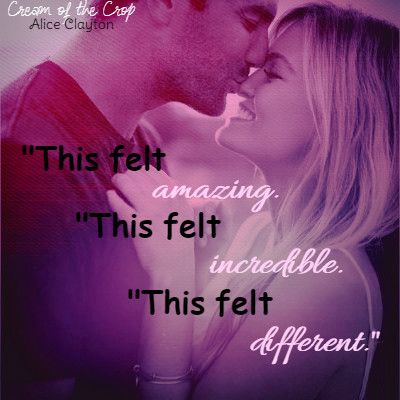 Once again Alice Clayton delivered an enjoyable gem that had me smiling and grinning the entire time. I love this author's storytelling. She always manages to make me forget for a couple of hours about real life with her quirky, funny stories. 'Cream of the Crop', the second installment in this series is the perfect mix of humor and romance and I enjoyed it tremendously. It was gripping from the start and delightful from the very first chapter.
Natalie Grayson is a beautiful woman who works as an executive at an advertising firm. She loves her job, the city (she's 100% a city girl), her body (she's a size 18 confident woman) and last but not least, she loves men. However, she's not looking do get married. She only wants to have fun and enjoy herself. She is proud of her figure having the power to make any men eat out of the palm of her hand. Well…any man, except Oscar Mendoza. Natalie goes to the Farmer's Marker each Saturday. She's a little addictive to these visits, not only because she loves her cheese, but also because of Oscar, owner of the Bailey Falls Creamery. Our heroine knows how to handle herself in any situation, but every Saturday at the sight of the sinfully sexy cheese-maker she becomes a blubbering mess. She fantasizes about this tattooed farmer man, admitting to herself that he intrigues her like no other.
"Oscar should grin more often. Because when he does, birds sing and angels weep. And holy shit, cows moo."
Oscar is a man of few words and he's been fantasizing about the curvy, blonde bombshell for a while now. When Natalie jumps at the chance to lead the Bailey Falls account for their tourism campaign she hopes not only that she will be able to spend more time with her best friend, Roxie, but also to get to know Oscar better.
This second installment turned out to be so much fun and oh, so very sexy. An opposites attract story, 'Cream of the Crop' was a highly entertaining read that made me smile and swoon the entire time. I enjoyed everything about the story – the vivid descriptions of Bailey Falls, the fantastic witty dialogue between the characters, the swoony romance and everything in between.
Natalie was FABULOUS heroine. I absolutely loved the sh*t out of her. Her confidence, her strength, her sassiness and the way she handled everything and everyone were simply wonderful. Needless to say, I adored her portrayal. She was an endearing, relatable character that I admired very much as the story unfolded. Her background was done very well. As the story progressed and her past was revealed my heart broke for this amazing heroine, but I have to say it was great watching her fall slowly, but surely for the sexy milkman.
"Would he be soft and gentle? Would he be strong and forceful? Would he lick my lower lip until I opened up, then slide his tongue against mine sensually? Or would he put his perfect hands on my face, turn it how he wanted it, and fuck my mouth with his own?"
Oscar was also a great character. I can't believe I'm saying this, but I didn't love him as much as I loved Natalie. Maybe because the entire story is told from our heroine's POV…who knows? Oscar was intriguing…enough, not very talkative, but very swoon-worthy. However, his bluntness got on my nerves at times.
The chemistry between these two was palpable and so fantastically done. Despite the fact they are opposites, Natalie and Oscar were really great together. I simply loved how sweet and sexy they were together. I would have wanted more scenes with these two together, but despite my little tiny issue here, I really enjoyed Alice Clayton's newest release.
All in all, 'Cream of the Crop' was a wonderful romantic comedy that made me smile and laugh, with two likeable and entertaining characters, humorous dialogue and a lovely romance that for sure will make you swoon.
* 'Cream of the Crop' can be read as a standalone, but I highly recommend reading 'Nuts', the first installment in the series too! *