Chained
Caged Duet #2
Fiction, Dark Romance
D H Sidebottom
July 15th 2016

I had once thought that when I found the light I had been searching for in that long, dark tunnel that it would finally give me the gift I had been holding on for.
I had scoured the joyless night sky for peace, a peace that only the brightness of the stars could grant.
And I had endeavoured to catch that single magic snowflake in the middle of a howling snowstorm.
I had been looking. Forever.
But little did I know that it WAS the sinister darkness in the tunnel that was the gift. It WAS the black reservoir of the deepest, darkest night that would be the very thing to give my chaotic soul peace. And it WAS the heaving rush of the bleakest blizzard that was filled with magic.
Anderson Cain WAS the darkness.
He WAS the black peace in my soul.
And within the raging pool of his wild green eyes WAS the magic.
The magic that saw me. The real me.
He made sure I saw me too. All of me. He'd told me he would make me accept who I really was.
I was Kloe Grant. And now – now I am the epitome of what he wanted me to be.
But when I finally let go, and I allowed that darkness to find me, neither of us was prepared for who I really was.
Death itself.
This book contains extreme violence, strong adult language and scenes of dark sex, including M/F/M.

show all books in this series
ARIANNA's review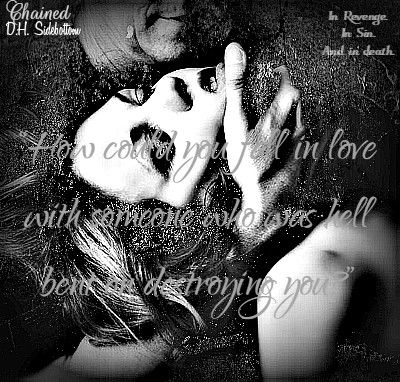 'Chained' the second and final installment in 'Caged' series was just as dark, twisted, disturbing and violent as the first one. Needless to say it kept me at the edge of my seat the entire time. This second installment picked up right where the previous installment ended. Once again Mrs. Sidebottom delivered a fast-paced, intriguing tale that for sure will blow your mind with its intense plot and with its batsh*t crazy characters.
"I was created to serve you, Anderson. I was made from the very horrors of hell that birthed you. We were cast from the same mould. But which gift will you take?"
Anderson is still out for revenge. Instead of forgetting his past and trying to move on, to be happy, he's planning to use Kloe in the worst possible way. He wants to ruin Kloe, to make her pay for what happened to him, believing in some way she's guilty for what he has been through.
Kloe fought her past and her childhood all her life. She lied to herself all her life, refusing to accept some things that happened to her. In order for her to really move forward, she has to accept who and what she is.
"She loved pain; it brought her to life, fed the need in her for retribution. Helped her to bury her past."
Kloe sees in Anderson what no one has ever seen and she's willing to give Anderson everything she has, everything she thinks Anderson deserves.

'Chained' was an intense read filled with action and steam and full of twists that kept my interest from start to finish. The plot was intriguing and well developed and both main characters, Kloe and Anderson were well portrayed. Once again I felt deeply for Kloe. She was lost and…well pretty fucked-up, but she did her best to deal with everything. As for our hero/antihero, well…honestly he got on my nerves more times than I want to admit. His hot and cold behavior was really frustrating at times. I understood why he was that way, but at times it felt a little too much in my opinion.
"I had to ruin her. It was the only way for me to finally move forward."
I also understood the two main characters' connection, but I would have liked to feel more chemistry between them. Kloe and Anderson's relationship was tumultuous, dysfunctional and crazy as fuck. The same thing I could say about all the sex scenes between them. Don't get me wrong, they were off the charts hot, but they were a little (or more than a little) unconventional and weird to say the least.
Overall, this was a great conclusion to Kloe and Anderson's story! If you can handle dark and disturbing reads, then I totally recommend this series!
"…he carried my soul with him. He always had. Fate had brought us together, and fate would take us through to the end, whatever it had in store for us."