Breaking Him
Fiction, Erotic Romance, BDSM
Entangled Publishing LLC
September 5, 2016

Folks in town call him a monster—say he's dangerous. But I know him simply as Elijah Hays, the quiet, gentle giant who works with the horses on my ranch. I can feel him watching me, that steady intense gaze making me crave things I don't quite understand, burn in a way that frightens me. He's always kept his distance…until that night.
I remember him coming to my rescue, me following him into the barn, giving him his first taste of a woman, and his inexperienced yet barely reined touch turning me to ash.
Now all I can think about is exposing the dark desire I see deep inside him—having him turn those dark desires on me. That low, gritty voice rasping orders in my ear. Those huge, rough hands holding me down when a storm blows in.
I want his surrender. His control. I want to break him…and have him break me…
ARIANNA's review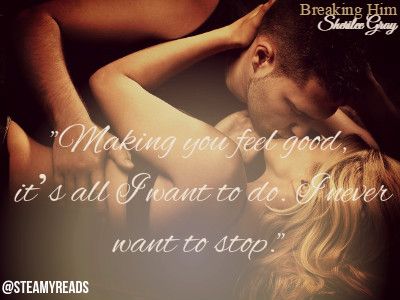 Dayum! This was so much better than I had expected. And the best part is that this little gem was simply awesome and really, real hot! Ever since I've read the blurb I knew I had to read this one as soon as possible, mainly because the idea of a virgin hero intrigued me very much. I can't remember the last time I've read an erotica or any other genre where the hero is not experienced between the sheets. Needless to say, this was a very nice change and while I'm not a fan of virgin heroes, I enjoyed this one very much.
'Breaking Him' tells the story of Abigail who has lived all her life on her father ranch in Montana. Ever since her father passed away six months ago she struggles to keep her ranch afloat. The fact that the town's bank manager seems to hate her, expecting for her to fail to take her ranch doesn't help Abigail's situation. She's lucky enough to have a good ranch help, Elijah, a man who despite the rumors in town he's a good, gentle man who respects and helps her whenever she needs it.
"I trusted him with my body completely. His size, his quiet nature, his past and fears, none of that could hide his beautiful soul. He'd never hurt me. Ever."
Eli had worked for Abi and her father for twelve months. Everyone in town, including Abigail knows about his tragic past. Eli is a little tortured man, a man of few words who despite his huge size he's very gentle with the horses he works with. He knows who's the boss on the ranch, so he's distant and polite, but for Abi he's a mystery.
"The strong and sudden urge to force him to react, to tempt him past his control—to climb that massive, ripped body, wrap my thighs around his hips, and hang on while he bucked into me like an ornery bull, snarling and grunting until we were both spent—was near overwhelming."
Even if Abi and Eli have always had a professional relationship, she always lusted after him, after his body, after his touch. Their relationship between them changes one night when Eli comes to Aby's rescue and Aby is more than ready to show him in the best possible way her gratitude. Things evolve from one kiss to one hot passionate night together and Abi becomes more and more infatuated with Eli and Eli with her.
"You're my salvation, Abigail," he said, voice low and guttural, each word punctuated with an almost violent thrust of his hips. "Right here, inside you, I'm redeemed. I'm the man you need. I'm yours and you're MINE."
Holy sh*t!! What a nice, hot as hell read this one turned out to be! The steam aspect was without a doubt my favorite here, not only because was predominant, but also because it was fantastically done. Mrs. Gray clearly knows how to write a passionate sex scene. These two characters' sexy times were plenty, hot as hell and for sure will leave you hot and bothered. I found this story to be very gripping and not only because it's an erotic romance, but also because our hero was more intriguing than I had expected.
"You're the only face I see anymore, Abigail. The only woman I've ever wanted."
Eli was a fantastic hero and despite the book short-ish length was pretty well portrayed. I loved the way he respected Abi and how sweet, caring, protective he was with her as the story unfolded and I loved his dominant side. Abi was also a great heroine and I really liked her. I loved the way she stood by Eli and how thoughtful and considerate she was at times. These two complemented each other in a really great way and I enjoyed all their scenes together- sexy or not.
Personally I think these two characters' relationship progressed a little too fast. I really would have liked the story to be longer and read more about them.
Overall, a fantastic read!
"I am the only man with the right to touch you, hold you, comfort you. Me. Only me"