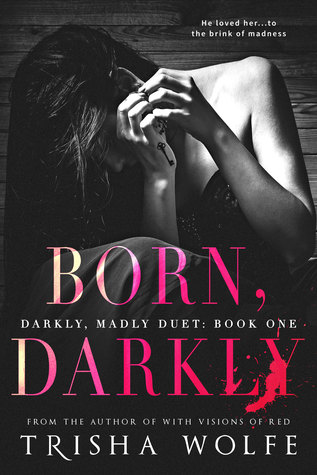 Born, Darkly
Darkly, Madly Duet
Psychological Thriller Romance
September 19, 2017
Yes
He challenged her sanity.
She shattered his reality.
They dared each other...to the brink of madness.
A dark and twisted maze awaits criminal psychologist London Noble when she falls for her patient, convicted serial killer, Grayson Pierce Sullivan. As she unravels the traps, her sanity tested with each game, she's forced to acknowledge the true evil in the world around her.
Val's Review
So, Trisha Wolfe is really talented.
Chick can write some seriously mind fucked characters, that's for sure.
You can tell she really did her homework as applied to Psychology 101…or maybe she's in the field herself…or perhaps she's just really good at bullshit.
Either way, I bought it, factual or not. So well done.
As said, I really enjoyed the psychological aspects of this story as well as the ways details of both main characters' pasts were peeled away layer by layer as the story progressed. There was also a lot of quality sexual tension and pull between the two main characters.
That said, I did feel like the romance takes a backseat to the psychological thriller aspect of this book, which is totally fine; however, that might also be why I find myself less than highly motivated to pick up book two – which is surprising what with how much I enjoyed this one.
Conundrum.
Anyway, definitely pick this one up if you like psychological thriller-esque romance that focuses more on character interaction and development than on plot.