Boarded by Love
Bellevue Bullies #1
Fiction, New Adult, Sports Romance
September 6th 2014
"Jude Sinclair here, hockey player for the Bellevue Bullies and lover of all ladies. Hockey's in my blood, and not to sound full of myself, but
I'm good at it...really good. The draft is within my reach—it's mine to take—but that's not the only reason people know my name. They know me because of my way with women. They know the score, and I aim to please. I just tend to stay away from repeat performances. In other words, I don't do relationships beyond my family and friends. I'm happy with life. However, I should warn you that my story and how I see it playing out is about to change due to a certain redhead on campus.
She's beautiful. Stunning. Breathtaking.
She's my game changer."
"He's trouble from the moment I see him. I don't know what I'm thinking, but from the moment I meet his gaze, I'm his. It's a scary feeling.
I've never trusted anyone outside my aunt and uncle—and even that took months. I didn't have it easy growing up. My mom was usually strung out, and she didn't give me a second thought. Drugs and the men who paid her were more important to her. It was horrible, but I'm stronger today. Because of my past, security is what I need most. Money assures me that I can take care of myself today, tomorrow, and next month. I don't want to ever be hungry or go without again, so I work hard for every penny.
Oh, by the way, I'm Claire Anderson. I'm a hard-studying sophomore at the University of Bellevue, dancer for the school dance team, and a burlesque dancer at a club, but that's my secret.
You may think you know how our story ends, but you have no clue. It's not easy falling in love… or living happily ever after. At first it may seem so, but when is anything worth having ever won without a fight?
Especially when you're boarded by love."
Val's Review
Re-read 4/30/15: After finishing
Clipped By Love
, I felt like revisiting this again, so I re-read this little gem last night when I couldn't sleep…Le Swoon.
10+++++ I Love You More Stars – Perfect for when you need some OTT sweetness
Me + This Book =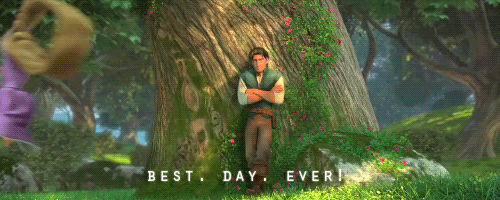 I remember several years ago – before I discovered goodreads – I stumbled upon the awesomeness that was Taking Shots via a random kindle/amazon search one day and I was like, holy shit, this ish is awesome, I am in love.
I have loved or really enjoyed pretty much everything Toni Aleo has put out since, but Boarded by Love was just exceptional IMO.
You know that oftentimes rare and elusive book moment when you are in the thick of reading something awesome AND YOU REALIZE IT at the time?
It's like a damned unicorn.
That was this book for me.
Jude was up there with Shea (my all time favorite Assassin) in the awesome department and I really liked Claire. There was a bit of insta-love at the beginning, but Aleo makes it believable in a way that most authors don't. Her ability to include small, intimate details in the storyline and in the characters' thought processes make the story and the characters so rich and three dimensional.
My favorite thing about Aleo's books is that she gives the reader the perfect amount of drama and angst – enough to make you really feel, get emotionally involved, and sit on the edge of your seat – but not so much that you want to vomit and chug a 5th of Jack Daniels.
And not only does Jude/Claire's story rock the casbah, we get some awesome cameos from Phillip, Reese, the God that is Shea Adler, and other Assassin crew members too.
So in short, Toni Aleo, you rock my bookshelf with this one girl and I love you hardcore.