Take Me With You
Fiction, Dark Romance
October 17th 2016

I watch.
I study.
I prowl.
I hunt.
I always go in with a plan. A set of rules for myself. I don't take unnecessary risks. That's how I've been able to evade capture all these years.
But there's something about this girl that is different than the others. When I finally meet her, the rules become a blur. And I break the most important one of all—I take her with me.
——-
It's just my imagination—that feeling of being watched. That those icy eyes— a vivid turquoise with a distinct golden fleck—aren't watching me.
It's just stress. I am the person everyone relies on. Maybe that's why I haven't been feeling so content with my life lately. Why I dream those eyes belong to someone who can tear me away from all of my responsibilities.
But these are just shameful fantasies, never meant to breach reality.
Then one night, the dream comes true, only it's a horrific nightmare.
Now, I only have one task: survival.
Arianna's Review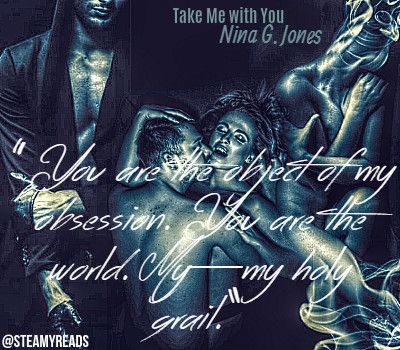 'Take Me with You' was dark, disturbing and all kinds off f@cked-up from the beginning until the end. Needless to say I enjoyed the hell out of it! While Nina G. Jones's newest dark novel wasn't the darkest book I've ever read, it was for sure one of the most thrilling, gripping and without a doubt, immoral dark story I've read in a long time. If you are looking for a shocking, intense, terrifying read, then look no further, because Nina delivered exactly that. If you're a fan of dark romances, then you will devour this one, you will be at the edge of your seat and for sure you will question your sanity.
"Who are you?" I cry. "The Night," he rasps.
"When you're fucked up like me—like that—heaven and hell aren't very different."
Sam is an evil, sick man who loves to hunt, to terrify, to stalk, to intimidate his victims, to steal their lives. He will come when you feel you're most secure, planning his every hunt from start to finish, never taking unnecessary risks. When he lays his eyes on Vesper he is more than fascinated with her. He is drawn to her beauty and her kindness, feeling how different she is from others. He has to have her, to own her, so he simply takes her.
"Girls like her don't want the beast. They want the idea of one. They want to be safe and still revel in the thrill. But there's no safety with a monster. Because monsters consume. They take your body, your soul, and your innocence."
Vesper feels someone watches her. She doesn't know who or why, but she feels both nervous and excited. She believes those green-blue eyes she recently started fantasying about are part of something beautiful, she believes that she's safe, but everything changes for her when she's taken and her fantasies turn into her worst nightmares.
"You're a pretty little angel on the outside. But inside…" He shudders. "Inside you're a whore who likes it when I spray my cum all over your tits."
Well, dayum…what an intriguing, read this one turned out to be! To be honest, this was more than intriguing. It was sick and depraved and will mess with your mind from the very first chapter. The pace of the story was simply fantastic and with each and every chapter you will want to know more about Sam, this fascinating anti-hero that will keep you at the edge of your seat for more than one reason.
'Take Me with You' was fantastically written, completely addictive in some very crazy way and so wonderfully twisted. The plot was well developed, original, smart and it will keep your interest until the end. Keep in mind the story is violent and disturbing at times with some very graphic scenes that without a doubt will make you cringe.
"He likes the taste of my sadness and I like when he injects me with his venom. He is my danger, my greatest threat."
Sam was a great, complex character that I'm sure he will intrigue you as much as he intrigued me and he will make you question your morals. He was fantastically portrayed, 100% non-redeemable, an evil man, a real psychopath, a captivating anti-hero that with his actions will take you out of your comfort zone from the very beginning. While he's a sick man he has a human side I totally loved.
All in all, 'Take Me with You' was a fantastic dark and gritty story that will suck you in from the start. With a gripping story-line and one of the most fascinating anti-hero I've read so far, Nina G. Jones's newest release will mess with your head and will hold you captive the entire time. If you love dark reads and you don't have any triggers, then this is the book for you.
"Fear is the glue that holds us together."
 

---
About the Author:
Nina G. Jones is the author of seven full-length novels of various romance and erotica sub-genres. Her latest novel, Take Me With You, releases on October 17th.
Stalk Her:
Giveaway: