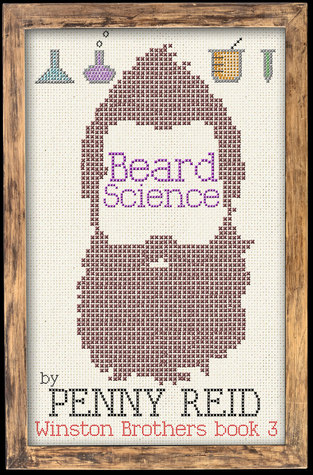 Beard Science
Winston Brothers #3
Fiction, Contemporary Romance, Romantic Comedy
October 11, 2016

Make a deal with the devil and you might get what you want, but will it be what you need?
Jennifer Sylvester wants one thing, and that one thing is NOT to be Tennessee's reigning Banana Cake Queen. Ever the perpetual good girl and obedient daughter, Jennifer is buckling under the weight of her social media celebrity, her mother's ambitions, and her father's puritanical mandates. Jennifer is officially desperate.
And desperate times call for Cletus Winston.
Cletus Winston is a puzzle wrapped in a mystery covered in conundrum sauce, and now he's in a pickle. Despite being convinced of his own omniscience, extortion by the exalted Banana Cake Queen of Green Valley has taken him completely by surprise. So... what's a maniacal mastermind to do?
Likely, the last thing you expect.
'Beard Science' is the third book in the Winston Brothers series, is a full-length romantic comedy novel, and can be read as a standalone.
Nancy's review
(guest blogger)
When I started this, I knew without a doubt that I was going to love Beard Science. Cletus was always the odd and sneaky one in his family—that's what intrigued me the most. His personality and how he liked to keep everyone on their toes always fascinated me, so I was extremely happy when we finally got his book.
"Cletus Winston was the sneakiest, most manipulative, most powerful, and—as far as I was concerned—the most dangerous man in East Tennessee."
I loved the relationship between Cletus and Jennifer. I don't think I could've picked a better match for him. They're so different in many ways and yet somehow they're perfect together. Cletus may be known as a sneaky and manipulative man but he has a heart of gold.
What I have come to love about Penny's writing is how she doesn't try to write the hottest sex scenes, instead focusing on all the feels—I freaking love it!
"From now on she would be mine: her skin was for my eyes only, for my mouth to cherish, my hands to touch."
With the help of Cletus, Jennifer starts to stand up for herself, refusing to continue letting people walk all over her. I was in awe of her and the extreme changes she made.
If you haven't read this series yet I highly recommend you do. It's become a favorite of mine. I can't wait to read more of the Winston family.