All the Rage
Fiction, Dark Romance
Everafter Romance
June 21st 2016
They call me Rage.
My real name is like a shadow, always close behind, but never quite able to catch up.
I fly under the radar because no one ever suspects I'm capable of the kind of brutal violence I commit each and every day.
You see, I'm a girl. I'm nineteen.
And I'm a killer.
This life is all I know. It's all I want to know. It keeps the s**t buried that I need kept buried. It allows me to live without thinking too much.
Without dwelling on the past.
Until him.
It all changes when an ordinary boy becomes my next target.
And my first love.
I have to choose.
The only life I've ever known has to die, or he does.
Either way, I'll be the one pulling the trigger...
ARIANNA's review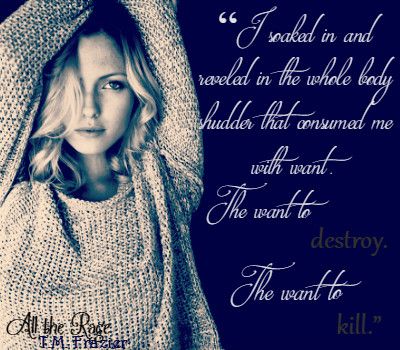 'All the Rage' was my first book by this author and for sure it won't be my last. I enjoyed Mrs. Frazier's writing and storytelling, so I'm really looking forward to try more of her work. The author delivered an intriguing tale that will grip you from the very beginning. The story was a great mix of craziness and sexiness that were well balanced, a great, engaging plot and two fascinating characters that will blow your mind.
"My story is different than most. I'm different than most. Because in my story, if you love someone enough, you should first drop the gun."
Ever since she was a child, Rage had known she was different. She lacks empathy, so she doesn't care about anyone, except her family. As much as her parents tried to change who she is over the years, Rage didn't change. She embraced who she is, accepting that she's different, anger being the only emotion she had feel since she was a child, itching to break free. Rage is a killer, a bada$$, a nineteen years old girl who doesn't fear anything or anyone.
Rage meets Nolan when he becomes her next mission. She has to babysit this college boy to get some information about his parents. At first Rage treats Nolan like any other job, but as time passes, she realizes Nolan may be different from any other boy she met so far. He's not as ordinary as she initially thought he is. She's taken aback not only by Nolan's good looks and personality, but also by the fact that she actually can feel…something…for this boy. Her feelings are blurry, but she knows one thing for sure, she doesn't want to kill him.
"I wanted him.
I didn't want to want him.
I wanted to want to kill him."
Like I mentioned above, I enjoyed the author's storytelling and I have to say the story was pretty addictive and intriguing. The plot was well developed and unpredictable, which I loved and the two main characters were simply fascinating.
Rage was a well written, unique character. I loved her portrayal and the fact that she had so many layers. She wasn't a bad person, not at all, she was just…a little crazy. From the outside she seems just like any teenager, but Rage is an insane dangerous killer. I loved how strong and fierce she was and I also liked the fact that she had a softer side. It made her more endearing somehow. I've never expected Nolan to end up being like he was. He was as fascinating as Rage and perfect for her in every way. I liked his backstory and I loved the effect he has on our heroine. He was sweet and protective, commanding and loyal and like I said, perfect for Rage, accepting her craziness from the beginning.
"She was so tiny, so powerless, yet so strong and so powerful. She was anger and beauty and lust wrapped up in one fierce package."
I liked how these two characters' unconventional relationship unfolded. Their chemistry was off the charts at times and the sex scenes between them were smocking hot.
What didn't work for me was the plot twist in the end. It my opinion it wasn't interesting at all. I expected the story to unfold in a total different way, so I found it to be pure and simple ridiculous.
Overall, an interesting, well-paced, unpredictable dark and gritty tale!