Adulting 101
Fiction, M/M Romance
August 13th 2016
The struggle is real.
Nick Stahlnecker is eighteen and not ready to grow up yet. He has a summer job, a case of existential panic, and a hopeless crush on the unattainable Jai Hazenbrook. Except how do you know that your coworker's unattainable unless you ask to blow him in the porta-potty?
That's probably not what Dad meant when he said Nick should act more like an adult.
Twenty-five-year-old Jai is back in his hometown of Franklin, Ohio, just long enough to earn the money to get the hell out again. His long-term goal of seeing more of the world is worth the short-term pain of living in his mother's basement, but only barely.
Meeting Nick doesn't fit in with Jai's plans at all, but, as Jai soon learns, you don't have to travel halfway around the world to have the adventure of a lifetime.
This is not a summer romance. This is a summer friendship-with-benefits. It's got pizza with disgusting toppings, Netflix and chill, and accidental exhibitionism. That's all. There are no feelings here. None. Shut up.
"If Nick were on a quest to return the One Ring to the fiery pits of Mount Doom, Jai Hazenbrook would totally be the hot-as-fuck elf in tight leather pants who could shoot the left testicle off an orc at a thousand paces. Whereas Nick, of course, would be the short hairy-footed guy who liked beer and fireworks and second breakfasts. Even in his fantasy worlds, Nick is a realist."
➦This. book. was. funny. And also cute and sweet. It tried to be sexy too, at times, but funny suddenly burst in to take over.

➦Like, s'cuse me! i know you're trying to get it ON, but I got an awkward joke to tell and I promise it will be all worth it! And now that I'm done, carry on…

➦But now you're laughing and the moment is gone but yes, indeed, it was totally worth it. It's that kind of book. In a nut shell, it's about two guys falling in love while trying to be in a casual summer relationship.
➦Nick, having just graduated high school, is having anxiety about what to do with his life. He is expected to attend college but he's not quite sure he's ready.

➦That's exactly how I felt after high school! hehe In short, adulting sucks. Nick is working at the office on a construction site. Not as much working, though, as ogling a hot guy by the name of Jai. So after a while Nick decides to bring his best game and be an adult and go talk to Jai.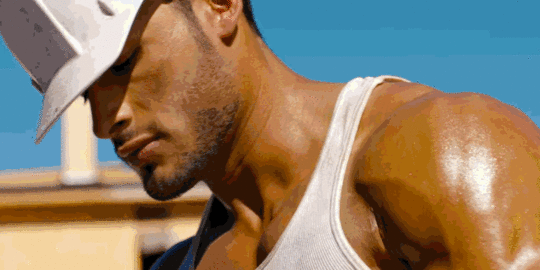 ➦And you know what, sometimes, being honest and straight to the point gets you places. Because when Nick straight up tells Jai he's like to "blow him" things escalate fast. And besides the fact that they get caught and fired for fooling around on a job, they still have each other… right?

➦Read this book if you enjoy M/M and you want some laughs. If you enjoy T.J. Klune's books, the ones with humor in them, you will probably like this one too. You'll find out how Jai and Nick's relationship develops from a fling into friendship/love and how Jai helps Nick with that whole adulting business. 🙂