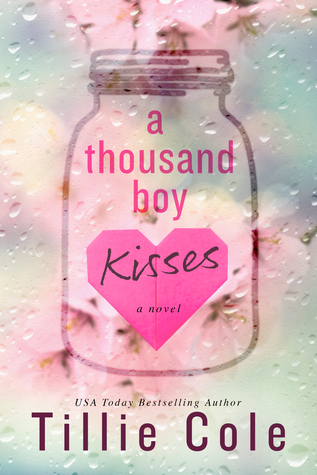 A Thousand Boy Kisses
Fiction, Young Adult
Createspace Independent Publishing Platform
March 14th 2016
One kiss lasts a moment. But a thousand kisses can last a lifetime.One boy. One girl. A bond that is forged in an instant and cherished for a decade. A bond that neither time nor distance can break. A bond that will last forever. Or so they believe.When seventeen-year-old Rune Kristiansen returns from his native Norway to the sleepy town of Blossom Grove, Georgia, where he befriended Poppy Litchfield as a child, he has just one thing on his mind. Why did the girl who was one half of his soul, who promised to wait faithfully for his return, cut him off without a word of explanation?Rune's heart was broken two years ago when Poppy fell silent. When he discovers the truth, he finds that the greatest heartache is yet to come.A stand-alone young adult tearjerker romance, recommended for ages fourteen and up.
NANCY's review

Moonbeam hearts and sunshine smiles
This book deserves like an infinite number of stars. It was that good. There is no words to describe how beautiful this story was. From beginning to end. I've read some YA books before that I've enjoyed, but this one is just something different. I LOVED it. One of the best YA books I've ever read. God, this book just gives you all the feels. This one will stay with me forever.
Poppy and Rune meet when they are 5 years old. And instantly they become best friends. When poppy is 8, her grandmother gives her a jar to fill with a thousand boy kisses.
"This jar is for you to record your boy-kisses, Poppy. All the kisses that make your heart almost burst, the ones that are the most special."
I've never cried so much while reading a book. But this one had me crying all the time. Not only sad tears, but happy ones as well. I'm glad I read this at home and not somewhere in public. Seriously, I didn't think it was possible to cry so much.
God, Rune was the sweetest EVER. I loved how deeply in love he was with Poppy, and no other girl mattered to him. She was his and he was hers. Although they were young, Poppy and Rune loved each other so fiercely there was never ant doubt about how they felt for one another. Their love was so strong, you could just FEEL it.
"Poppymin! It means my Poppy. For infinity, forever and always. You're MY Poppy!"
I really recommend this one to anyone who loves romance and isn't afraid to cry while reading it. Because trust me, you will! But you still get an AMAZING happily ever after in the end so the tears were all worth it.
"A forever kiss with my Rune … in our blossom grove … when he finally came home."
Then she added, "… and my heart almost burst."