The Allure of Julian Lefray
The Allure Series #1
Fiction, New Adult, Romantic Comedy
June 29th 2015

From: JosephineKeller@LLDesigns.com
To: LilyNBlack@gmail.com
Subject: Justin Timberlake Nudes!
Lily, you predictable perv. I knew you'd open this email faster if I tempted you with a glimpse of JT's "PP". Well, put your pants back on and grab some bubbly because I have much better news to share.
I GOT A JOB!
As of tomorrow, I'll be the new executive assistant at Lorena Lefray Designs. I am SO excited, but there's one itty bitty problem: I won't be Lorena's assistant. I'll be working for her older brother, Julian.
I know what you're thinking- "But Jo, what's the problem?"
Google him. Now. He's the man in the fitted navy suit whose face reminds you that there's hope yet for this cruel, ugly world. Keep scrolling…Do you see those dimples? Yup. That's the Julian Lefray I will be reporting to tomorrow morning.
Lord, help us all...
XO,
Jo
ARIANNA's review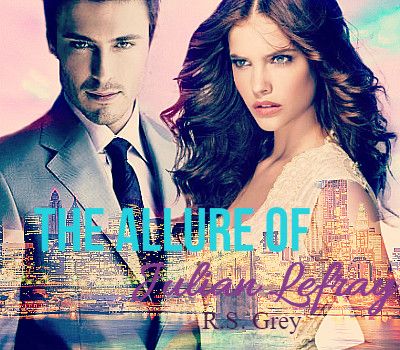 I love this author! Besides her flawless, engaging writing, what I love the most is her ability to create unputdownable stories that sucks me from the very beginning from one reason or another. My first thought after I finished this first book in the series was – What the hell I waited so long to read this one? Needless to say if you have it in your TBR pile read it ASAP because it's totally worthy it, if not, don't hesitate and add it. I guarantee you won't regret it! 'The Allure of Julian Lefray' was such a feel good story. Funny as hell and sexy as fuck, this was a very entertaining, delightful read. I honestly couldn't put it down and I enjoyed every minute of it.
"Ignore the tall, dark, and handsome vibe. Book boyfriends exist for a reason."
Josephine 'Jo' Keller is a young woman who dreams big. She recently moved from her small town in Texas to New York to pursue a career in fashion. Her fashion blog is her little baby and she is more than proud of it, having enough followers to be pleased and also determined to become someone in the fashion industry. While her parents are more than skeptical regarding her career choice, Jo intents to prove everyone than she can make it in the big city. Invited to a fashion event she comes face to face with Julian Lefray, the older brother of Lorena Lefray, owner of Lorena Lefray Designs, the woman Jo just submitted her resume for the executive assistant position.
"He reached forward and gripped my arm just above my elbow as he leaned in to kiss my cheek. JESUS CHRIST. He smelled divine, like he'd spent the morning in the woods building me a log cabin. I hated him."
While Lorena is in rehab Julian has taken over her duties. He is good looking and successful achieving quite a lot in his 31 years old. He likes Jo from the moment they meet, he is drawn to her beauty, exuberance and wittiness and without thinking about it too long, he hires her to work for him. Jo is more than attracted with Julian, but in order to work with him she has to control herself. She tries to remember all the reason she moved to NY, trying really hard to forget about her new boss's dimples or abs, but it's so hard to do that when your boss looks like a sex God.
"First, I needed a joke to break the tension between us.
Why'd the chicken cross the hard body of Julian Lefray?
To get laid.
Which came first? The chicken or me?
Shit.
I was in trouble if I couldn't think of a non-Julian related sex joke."
I loved this one! Not only because it was so entertaining, but also many aspects were so well done and refreshing. I loved our heroine! Jo was my kind of heroine – smart, strong, determined, witty and so very endearing. I loved the way she believed in herself and the fact that she was not afraid to go after what she desperately wanted. Every aspect of her character was relatable to me and I have to say I enjoyed her personality immensely. I had a blast being in her and I really loved reading her blog posts. She was a well portrayed character I think everyone will find her adorable and delightful.
"He didn't even know the effect those dimples had on my girly parts. One word: Ijustgotpregnant. Yeah, that's one word."
Julian was a fantastic hero from the beginning until the end. I'm sure he'll make you swoon from the moment he is introduced. I loved his character and I loved the fact that he was not what I had expected after reading the blurb. He was not a cocky bastard, he was not arrogant and more important he was not a manwhore. Instead, he was just a wonderful hero who won me over from the start. I loved how loyal, sweet and protective he was towards his sister. Sex on a stick, Julian's portrayal will leave you wanting more with each and every chapter. He will make you swoon and smile and he will warm your heart with his sweet and sexy lines.
"He wrapped his arms around my biceps and held me against him. His tongue slipped into my mouth and I moaned, pressing even closer to him. I could feel his heart beating in time with mine. This was it."
I have to mention the awesome banter between these two characters. I simply loved it! It made me grin like a lunatic and these two kept me entertained the entire time with their sweet and funny as hell interactions and with their great palpable chemistry.
If you're looking for a fun and sexy read, don't hesitate and pick this one up! 'The Allure of Julian Lefray' was a fantastic angst and drama free read with two endearing main characters, engaging side characters and plenty of sweet and funny times.