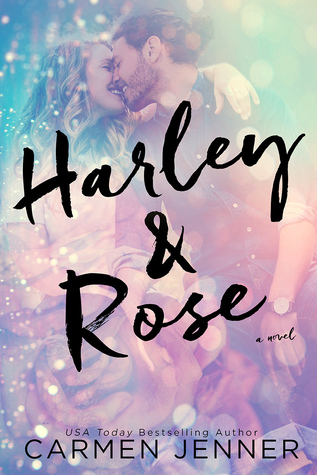 Harley & Rose
Fiction, Contemporary Romance
October 18th 2016

Ever since she was a little girl, thirty-year-old Rose dreamed of the day Harley would carry her across the threshold on their honeymoon. So what if this isn't her actual wedding day, and that she's only here because Harley was left at the altar just a few hours earlier?
Trading San Francisco for paradise and swapping her bridesmaid's bouquet for a Blue Hawaii, Rose hopes she can finally escape the friend zone.
Once upon a time they had been more than friends, but life got in the way. She's spent every day since wishing Harley would get a clue.
She's always been his best friend.
He's always been hers.
She's in love with him.
He's … not in love with her.
He's … marrying someone else.
He's … hiding something.
He's … well—it's complicated.
ARIANNA's Review
'Harley & Rose' was very different from what I've read so far by this author and very different from what I had expected reading the blurb. It was wonderfully written and in some way very refreshing since it was so very different from any other friends to lovers story I've read in the past. It was fun and entertaining, but also heartbreaking, painful and dare I say, frustrating as hell. Carmen Jenner made me feel with this novel. It made me smile, it made me swoon, but it also angered me so damn much. Needless to say, Mrs. Jenner played with my emotions from beginning until the end.
"I'd be his only one for the rest of my days if he'd let me. If he'd just open his damn eyes."
Harley and Rose have been friends since forever. Their families are close, so over the years they had to spend a lot of time together. Rose has been in love with her best friend for years. She never forget those years when Harley used to mean everything for her, she never forget his kisses or his touch and she never forget that he broke her heart. Once upon a time, Rose had everything she always wanted – Harley, being each other's firsts in more ways than one in their teenage years. She thought he will be her forever, but life had other plans. Years had passed, each one of them moving on in one way or another, but now they are back "together", Rose trying to comfort Harley after his fiancé ditched him at the altar. Rose feels bad for Harley, but she can't deny that she's also happy that he's finally free. The relationship between these two changes slowly, but surely when Rose agrees to…something that will change their lives completely.
"You ruined me. You're still ruining me, even though you promised you wouldn't."
'Harley & Rose' was devastatingly beautiful, but also like I mentioned above, frustrating. Very frustrating. The story was full of angst and drama and was told both in the past and present. We get to see how these two characters became more than friends, how their relationship progressed and how life got in the way. I liked some of these chapters. These two were great together as teenagers. The way they cared and loved each other was really heartwarming and I loved the playful banter between them.
Rose was an endearing heroine I felt deeply for. She was smart and sassy, loyal, a great friend to Harley (even when he didn't deserve it) and overall I had a great time being in her head. Her voice was honest, she felt real from start to finish and I wanted with all my heart for her to have what she always wanted.
"The biggest mistake I ever made was walking away from you."
Biggest mistake I ever made … was watching you go."
Unfortunately, Harley was just okay character for me. There were times when I wanted to smack him in the head, but there were also times when I sympathize with him. In some way he came across a selfish bastard, but he was also sweet and caring. I didn't understand and liked all of his decisions, so that's why I think I had a hard time liking his character as much as Rose's.
These two characters' relationship was tumultuous to say the least. It was intense, heartbreaking and angsty as hell. However, I have to say I loved the friendship between them, both in the past and the present and the sweet way they were with each other.
"Maybe we're too old for forts and fairytales," I say wistfully, snuggling into his chest.
"No one is too old for fairytales," Pan answers back.
The story progressed in a very…unusual way for a friends to lovers story. Personally, I didn't enjoy too much the direction the story took. I was pure and simple shocked by a particular twist that honestly left me with my mouth hanging open. I honestly couldn't believe my eyes. Needless to say, I wouldn't have minded a little warning about some aspects of the story.
Overall, a great read!
Book Excerpt
Harley bangs on the door. "Rose, what's the hold up?"
"Shut up, ass face," I say, scowling in his direction.
"You haven't even put it on yet, have you?" He chuckles, leaning against the frosted glass panel. "I'm giving you five seconds, babe."
I know he isn't kidding with this, either, so I let the towel fall to the floor and I yank on the bikini. I'm just snapping the bottoms into place when he bangs again.
"Time's up."
"I can't wear this," I say as he opens the door. My body is turned toward him, but only because half of my ass is hanging out of the cheeky-cut swimwear. Harley doesn't need me to turn around in order to see how much skin they expose. The huge mirror over the vanity is doing a fine job of showing it to him. He takes a slow sip from the paper coffee cup in his hand.
"Well?" I demand, snatching the cup from his grasp and gulping down a huge mouthful. It burns my tongue and throat and brings tears to my eyes that are in no way related to the fact that he hasn't said anything yet.
"You wanna know what I think?" He takes a step toward me and reflexively I take one back, only I have nowhere to go because my ass hits the bathroom vanity, and I swallow hard and nod. Harley's arm snakes around my waist, his fingers sliding down to the fabric of my bikini bottoms and across my exposed flesh. My body thrums. I hold my breath and he leans in close to whisper in my ear, "I think it's lucky you're not my wife, because you'd be walking with a limp for the rest of our honeymoon."
---
About the Author:
Carmen Jenner is a thirty-something, USA Today and international bestselling author.

Her dark romance, KICK (Savage Saints MC #1), won Best Dark Romance Read in the Reader's Choice Awards at RWDU, 2015.

A tattoo enthusiast, hardcore makeup addict and zombie fangirl, Carmen lives on the sunny North Coast of New South Wales, Australia, where she spends her time indoors wrangling her two wildling children, a dog named Pikelet, and her very own man-child.

A romantic at heart, Carmen strives to give her characters the HEA they deserve, but not before ruining their lives completely first … because what's a happily ever after without a little torture?
Stalk Her:
Giveaway
$25 Amazon Gift Card
a Rafflecopter giveaway