Disclaim
Deliver Series #3
Fiction, Dark Romance, Erotic Romance, BDSM
August 31st 2016

Camila was seventeen when Van Quiso kidnapped her. Ten years after her escape, the shackles refuse to release her. Not while there are still slave traders preying on her city.
She will stop at nothing to end them.
Even if that means becoming a slave again.
Returning to chains is her worst fear—and only option. They won't know who she is or what she intends to do. She's prepared for every complication.
Except him.
The one who decimated her sixteen-year-old heart.
Matias is charming, gorgeous, and dangerously seductive. He's also untrustworthy and enshrouded in secrets. After years of no contact, he finds her—on her knees, wrists bound, in the clutches of her enemy.
Will he sabotage her mission by needlessly saving her?
Or will he keep her in chains and never let her go?
What an intense roller coaster ride this book turned out to be! Pam Godwin never cease to amaze me with her dark and twisted mind. 'Disclaim' the third installment in her 'Deliver' series was as dark, gritty and addictive as its predecessors. Mrs. Godwin kept me guessing until the end and kept me at the edge of my seat the entire time. This third installment can be read as a standalone, but I highly recommend reading the two previous installment since you don't want to miss the awesomeness this series is.
"Twelve months after her disappearance, she'd become a mirage in his wasteland, distorting at the edges and flickering out of reach."
Ten years ago when she was only 17 years old, Camilla escaped a fate worse than death. Not only she was stolen from her home, from her family, but she also was stolen from the boy who meant everything to her. She was a captive for a year, a year who changed her and gave her the strength to fight stopping human trafficking. For ten years, Camilla tried to make different traffickers pay for doing to other men, women and children what Van did to her. She knows the only way to stop human trafficking is to cut off the head, but first she needs to find out who the head is.
"Over the years, his need for her hadn't faded. It had become a living, starving thing inside him, ruling his fucking world."
Matias was everything to Camilla ten years ago – her friend, her lover, her everything. But Matias is not a boy anymore. He's a man with a secret agenda, a man who has regrets, but also secrets, a man who knows more about Camilla than she ever could have thought. If at first Camilla thinks the man she once upon a time meant everything to her is as worse as any other captor, as time passes she realizes Matias is more than she initially thought he is and that nothing is at it seems.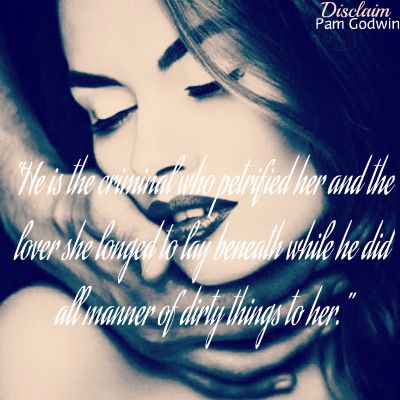 What an intriguing, twisted read! Once again Mrs. Godwin blew me away! The story is told in third person from both main characters' perspective and while I'm not a big fan of 3rd person POV, I found the story to be well written and very addictive from beginning until the end. The plot was simply awesome, complex and like I said, kept me at the edge of my seat the entire time. From the beginning the story left me guessing and I have to say all the twists were smart and fascinating and almost all of them left me with my mouth hanging open.
Camila was an awesome heroine. She was strong and smart and I totally loved her dedication to stop human trafficking. Maybe she was naïve at times, but I really loved her portrayal. IMO she was the perfect heroine for a dark romance.
"He couldn't stop. He was so fucking lost in her he didn't want to find his way back."
Matias was such a mystery…not exactly the entire time, but for a good part of the story. I didn't know what his deal is, if is a foe or a friend or what exactly he feels for Camilla. His portrayal was stellar and yes, if you are wondering he's exactly that kind of character you will love to hate. I loved his strength, his fierceness and also his possessiveness. The man was sex on a stick, intense and so damn intriguing and his dominance got me hot and bothered more times than I want to admit.
I liked how the story progressed and also how the relationship between these two main characters unfolded. I loved the connection between them and how easily they interacted with each other after so many years. As for the chemistry between them…holy sh*t! It was explosive and I honestly couldn't get enough of them. Mrs. Godwin knows really well how to write some sizzling chemistry and also a hot as hell sex scene.
To be honest, I didn't expect the story to be so steamy, but of course I can't complain. The author did a fantastic job mixing the dark and the steam aspects. The story was not intriguing only because of its twists and turns, but also because of the two main characters' "forbidden" relationship.
"She was it for him, his past and future, his weakness and strength, his meaning for everything."
All in all, 'Disclaim' was another great, enthralling read in this series. If you are looking for a dark and twisted un-putdownable read, you will want to read this one/series. I guarantee you won't be disappointed!